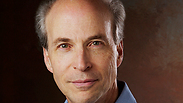 American Nobel Prize Laureate in Chemistry Prof. Roger Kornberg, one of the event's organizers
Photo courtesy of Foreign Ministry
A supercomputer would be needed to calculate the intelligence quotient in this event: About 20 Nobel Prize laureates in science, dozens of world renowned scientists and 400 young people considered the future generation of global science will participate this summer in the World Science Conference – Israel (WSCI) in Jerusalem.

According to the organizers, it will be the biggest conference of its kind ever held in the world.

Special Greeting

In recorded greeting in honor of Israeli Science Day, David Cameron says Israeli scientists' work is 'helping humanity in some truly profound ways.'

The event, which will take place in August, will last several days. Its participants will arrive from 60 countries and its organization is expected to cost about NIS 5 million ($1.25 million).

The conference was initiated by the Israeli Foreign Ministry, American Nobel Prize Laureate in Chemistry Prof. Roger Kornberg, the Ministry of Science, the Prime Minister's Office and the Hebrew University in Jerusalem, which will host the event.

The participants will all stay in the same hotel, which will turn during the conference in a sort of scientific Olympic village for young and old geniuses. The results of the wise analyses and discussions between them will likely be seen in the coming years.

The outstanding participants in the event include several Israeli Nobel laureates, including Prof. Ada Yonath, 76, who won the Nobel Prize in Chemistry in 2009; Prof. Dan Shechtman, 74, who won the Nobel Prize in Chemistry in 2011; Prof. Robert Aumann, 85, who won the Nobel Prize in Economics in 2005; Prof. Aaron Ciechanover, 68, who won the Nobel Prize in Chemistry in 2004; and Prof. Arieh Warshel, 75, an Israeli-American biochemists and biophysicist who won the Nobel Prize in Chemistry in 2013.

"This unprecedented initiative will create a unique Israeli platform for advancing science and will present Israel as a country which promotes innovation, creativity and initiative," said Yuval Rotem, senior deputy director-general for public diplomacy at the Foreign Ministry.

"Our goal is to bring together those who will be the world's leading scientists in the next 10 or 20 years with those who have already done it, so that they can share their experience and serve as a source of inspiration. The conference's young participants are a selected group of science prodigies."

According to Rotem, the conference will help strengthen Israel's image in the world.

Prof. Kornberg, one of the organizers, expressed his hope that the event would mark the beginning of a long-term tradition which would bring together brilliant scientists from around the world in Jerusalem every year.

Hebrew University President Prof. Menahem Ben-Sasson said the university was "proud to play a key role in such an important national project which serves as a wonderful opportunity to expand Israel's positive image in the academic and scientific fields."