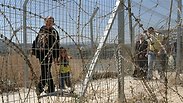 Not a single Western country has made Palestinian problem one of its top priorities
Photo: AP
So US President Barack Obama reprimanded Prime Minister Benjamin Netanyahu over his attitude towards Israel's Arabs and his lies about the two-state solution. The administration clarified that it won't veto anti-Israel resolutions at the United Nations Security Council and leaked information about the Israeli espionage on the nuclear talks with Iran.

Obama has a bellyful of criticism against Netanyahu, but the most amazing part in this story is not that Obama is making it clear to Netanyahu that he doesn't see him as a friend and that even a complete optimist – and Obama isn't one – understands that if it looks like, feels like and smells like, then the thing pouring on his head is probably not rain. The amazing thing is the remarkable patience that all the Western leaders have been showing for decades towards Israel's insolence.

Palestinian Issue

Op-ed: International community is waiting to hear how Israel's re-elected prime minister plans to secure Palestinians' right to self-determination; for Israel's sake, he should decide where we are headed before world imposes its own solution.

Europe and the United States allegedly oppose Israel's Palestinian policy, and especially its settlement policy. There is not a single country in the West which accepts the settlements' legitimacy, and they all see them as a real obstacle to peace. But beyond paying lip service – which has evoked a lot of anger in Israel and strengthens the right's imaginary feeling of a siege – the West's elites have supported the occupation, in practice if not in theory, and have avoided imposing any significant sanction on Israel, although it's clear that Israel is very sensitive to diplomatic and economic sanctions.

The regular warnings of the left, that if the right-wing government crosses a certain red line the words will turn into actions, have been proven false time and again: Israel's government expanded the settlements, violated their promise to evacuate illegal outposts, violated – although they promised not to – the Palestinians' basic human rights, and repeatedly launched "operations" which sparked a flood of words and a light drizzle of action.

It's not easy explaining this preferential treatment of Israel. It's mainly difficult to explain it in a country which is certain that "the entire world is against it" and which has turned uprightness into a national value. It may have to do with the Holocaust and with the fact that in the 1980s and 1990s it turned from a Jewish memory into a pan-Western symbol.

There is no doubt that it has to do with the radicalization processes in the Muslim world, which have turned the Palestinians from the victims of Western colonialism to part of the radical Islam's plan to wave its flags not only in al-Quds but also in Paris, Brussels and London. Different processes have played in Israel's "favor" and allowed it to do as it pleases in the territories it occupied.

Regardless of the reasons, it's clear that there is not a single country in the West which has made the solution of the Palestinian problem one of its top priorities. If the European Union or United States had a real interest in stopping the settlements, for example, you would have already felt it. You are not feeling it because the West believes that the Palestinians are eventually our problem. If you expect anyone in the world to solve it for us, forget about it.

That doesn't mean there isn't any problem. There is a problem and it's ours – and the Palestinians' of course. First of all, a continuation of the settlements gradually reduces the chance to maintain Israel's distinction as the Jewish state. Israel is controlling the fourth generation of subjects with no civil rights. At some stage or another – in the coming years? In the coming decade – we will be required to define the state's character: Either a binational state or an apartheid state.

Secondly, the gap between the political elites in the West (who don't care what we do with the Palestinians) and their electorate (which is finding it increasingly difficult to see us as an enlightened democratic state) will eventually turn into a political force. The West's elites don't care about the Palestinians, they care about their voters. Their voters have had enough of us. If we continue the current refusal policy, the elected representatives will seek to offer their voters moral gestures which will earn them votes.

That will happen. No one will force a solution on us, but one day we will find ourselves outside the club.