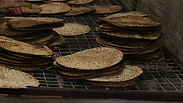 Matzot made at Kfar Chabad factory
Photo: Motti Kimchi
Ahead of the Passover holiday next week, the matzah bakery in Kfar Chabad has been in full production mode, preparing matzot to be enjoyed by tens of thousands of people around the world.
Another bakery that has been busy preparing the the traditional unleavened bread eaten on Passover is a children's matzah bakery, also in Kfar Chabad.
Making matzah at bakery in Kfar Chabad (צילום: מוטי קמחי)
The historic bakery in Kfar Chabad is the world's largest producer of hand-made matzot. The hand-made matzot will be placed on Seder tables at thousands of Chabad-sponsored Passover meals worldwide.
Jewish Holiday
Chabad-sponsored seders will take place in every corner of the world, from Accra in Ghana to Rio de Janeiro in Brazil, Hanoi in Vietnam and Queensland, Australia, as well as nearly 100 college campuses.
The bakery's shmurah matzot (matzah made from grain under special supervision from the time it was harvested) are made in less than 18 minutes and are entirely made by hand, including the kneading, rolling out, the punching of small holes and baking – without the use of modern machines. Unlike the machine-made kind, the hand-made matza made in Kfar Chabad is round in shape and asymmetrical, as well as dense and chewy.
"It is customary for the person making the matzot to say 'Le'shem Matzat Mitzvah' ('For the purpose of matzah for the mitzvah')
before preparing it. Matzah is also known as 'the food of faith', and a button has not yet been invented to replace the devotion in the hearts of Jewish people."
Not far from the traditional bakery is a unique Children's Matzah Bakery, established by the Chabad Youth organization, where children, religious and secular alike, can practice making matzot on their own.
However, these matzot are usually not kosher for Passover, since many of the children arrive at the bakery with a sandwich from home – which usually consists of bread or bread rolls, which are considered "chametz" (leavened bread).