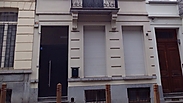 Reinforced door at Brussels kindergarten
Photo: EJA
An insurance company in Belgium refused to insure a Jewish kindergarten, claiming it is too risky amid recent growth of anti-Semitic attacks on Jewish institutions across Europe, the European Jewish Association (EJA) said Wednesday.

The Brussels kindergarten has a reinforced door and requires a security code to open, but this was not sufficient to satisfy the insurance company's conditions.

Anti-Semitism

Math teacher at elite Belgian school makes anti-Semitic, racist comments to class; student responds with 'we do not joke about these things'.

Europe has been suffering from a series of violent anti-Semitic attacks. In May 2014, four people, including an Israeli couple, were killed at Brussels' Jewish Museum by Frenchman of Algerian origin Mehdi Nemmouche, who spent more than a year fighting with Islamic extremists in Syria. In Paris, four Jews were killed at a kosher supermarket by Islamist terrorist Amedy Coulibaly.

These attacks have had an effect on insurance companies, with the Belgian company claiming it is "too big of a risk" to insure the Jewish kindergarten.

EJA General Director, Rabbi Menachem Margolin, said: "It is unfortunate to see that the insurance companies have realized what many European governments have not - Jewish institutions are a target for terrorist attacks and we need to make sure that they are protected by security forces."

"European countries must provide security arrangements that will satisfy the insurance companies and to come up with an alternative insurance plan tailored specifically for institutions that are threatened by anti-Semitism," Margolin added.

"It is shameful that we reached such a state. At first they do not do enough to protect the Jewish institutions in Europe despite recurring requests and warnings. Then the insurance companies use the excuse of the security situation as a way to avoid insuring kindergartens. This reality is surreal and cynical," he went on to say.