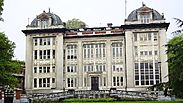 Emile Jacqmain high school
Photo: Wikipedia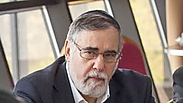 Rabbi Abraham Gigi
Photo: Eli Itkin
There was an uproar in Belgium last week after a high-school math teacher in Brussels told a Polish student to "go back to Poland" in a German accent, and then told a Jewish student "We should put you all on freight wagons."

The 16-year-old Jewish student responded to the teacher, saying "we do not joke about these things."

Hateful Act

An unidentified passenger on Belgian train line hijacks PA system and makes anti-Semitic announcement.

Belgian magazine La Derniere Heure reported Friday that the incident occurred at the Emile Jacqmain high school in the Belgian capital, considered one of the best in the country.

Four days after the incident, the teacher apologized to the class, saying "I did not mean to say it, and I apologize to anyone shocked by it."

Despite the teacher's apology, the student's parents decided to file an official complaint against him to the police, accusing him of inciting to anti-Semitism and racism, while the Belgian Education Ministry summoned the teacher to an official hearing regarding the incident.

According to Belgian law, which is similar to French law, anti-Semitic and pro-Nazi statements constitute a criminal offense whose punishment is imprisonment.

Rabbi Abraham Guigui, the Chief Rabbi of Belgium, condemned the incident, calling it "another step up for the spreading anti-Semitism in the country."

Rabbi Guigui told Ynet on Tuesday that he was "very concerned" by the fact that the recent incident shows anti-Semitism wasn't the sole domain of Muslim minority groups, "but rather succeeds, with the help of anti-Semitic propaganda, to penetrate the hearts of the Belgian people as well."

"This is another worrying sign that joins similar incident that happened in the part," he said. "If, in the past, we heard of this kind of incidents happening among students, this incident is a step up. A math teacher at a secular school, which is supposed to be the symbol of European democracy and enlightenment, that has this kind of opinion? This is how the teachers of the next generation look like, specifically in Belgium and generally in Europe. If the mighty have succumbed, it is very concerning."

Rabbi Guigui noted the authorities acted as expected of them in handling this incident, adding that the Belgian interior minister was aware of the anti-Semitism in educational institutions in the country and was doing all he could to promote tolerance between the different groups in the country.

Among planned reforms, the Belgian Education Ministry wants to introduce lessons about other religions to the weekly religion and ethics classes in order to promote understanding and tolerance.

Rabbi Guigui said that as part as his work with the Conference of European Rabbis he was working to extend punitive measures against anti-Semitism to other countries in the European Union.