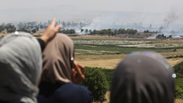 Syrian Golan
Photo: Haggai Aharon
Three months after an airstrike attributed to Israel killed Jihad Mughniyeh, new details reveal the Hezbollah commander headed an Iranian-backed taskforce aimed at undertaking high-profile attacks against the IDF in the Golan Heights.

Hezbollah is fighting alongside pro-regime forces in Syria against Islamist and nationalist rebels hoping to overthrow Bashar Assad. Mughniyeh, the son of Imad Mughniyeh – Hezbollah's head of operations until his assassination in February 2008 – was the group's commander in the Syrian Golan and was killed this January in an attack attributed to Israel. He was killed along with a number of other Hezbollah fighters and an Iranian general.

According to a report in a Kuwaiti paper, Mughniyeh headed a special taskforce which planned and even successfully carried out terror attacks against Israel last summer.

Among the incidents reported were four successful rocket launches at Israel and a number of successful mortar attacks on Israel; all of which fell in open areas during Operation Protective Edge in the summer.

The report said that Israel knew Mughniyeh was traveling in the jeep convey together with a top Iranian general and Abu Issa, the man who coordinates Hezbollah activities in the Golan. The Syrian general who was also traveling with them was said to be in charged of training the forces which the report said were planning attacks inside Israeli territory as well as additional rocket fire.

The day of the alleged Israeli attack, the group had conducted an observation patrol of Israel as part of their attempts to plan attacks against Israel.

Until the Mughniyeh-led taskforce, Iran had attempted to use local proxies to wage war on Israel, mostly through pro-Palestinian forces, most famously Samir Kuntar, vis-à-vis their support of Hezbollah.

These small cells managed to carry out a number of attacks against Israel in the past year and a half, mostly by laying blasts along the border and detonating them in proximity to IDF forces. However, over time these attacks dwindled down, as Israel began exacting revenge against the Syrian army, which were usually hit by the IDF in response.

Hezbollah's presence along Israel's northern border from Syria, in addition to their homeland of Lebanon, is viewed by Israel as an ongoing potential threat. Despite Jerusalem's policy of neutrality in regards to the Syrian conflict, on a number of occasions foreign reports have said Israel targeted Hezbollah conveys or arms warehouses, which some have claimed contained "game-changing" weapons.

In recent days, Syrian rebels have retaken the upper hand in the battle for the Syrian Golan, managing to halt pro-regime forces advances and retaking a Shiite village in the south of the Syrian Golan.