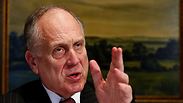 Lauder. 'The Hungarian Jewish community is not going anywhere'
Photo: Reuters
World Jewish Congress (WJC) President Ronald S. Lauder strongly denounced anti-Semitism and criticized Hungary's far-right Jobbik party in his keynote address Sunday in front of thousands at this year's March of the Living in Budapest in commemoration of the victims of the Holocaust.

"The March of the Living also reminds us what happens when the world is silent," said Lauder. "We will never be silent again. And when it comes to anti-Semitism, the Hungarian government must never be silent.

New Identity

Two years after being dumped by Jobbik party for admitting he is a Jew, Csanad Szegedi completes astonishing transformation: Going to synagogue, eating kosher and adopting Hebrew name Dovid.

"Today, when the world looks at Hungary, it does not see its great culture. It does not see its beautiful cities. It does not remember its great and glorious past," continued Lauder. "Today, the world sees Hungary and they see Jobbik. They see an extremist party that promotes hate."

The American businessman said he was concerned about Jobbik's increasing popularity, particularly among young voters. He told The Associated Press that support for Jobbik showed that Prime Minister Viktor Orban's Fidesz party and the opposition Socialists "are not giving them any hope."

Lauder, whose maternal grandparents were born in Hungary, said that many younger voters were turning to the party led by Gabor Vona not because of anti-Semitism but because "they're looking for an alternative. They're looking for something different."

Recent polls suggest Jobbik is the second most popular party behind Fidesz and lately has been steadily closing the gap.

While Jobbik is mostly shunned by its critics and opponents in Hungary, Lauder said dialogue was crucial.

"I believe ... that it's important to speak to them," Lauder said. "I believe it's important to speak to anybody who's willing to listen."

Lauder said that it was hard for him, as head of the WJC, to meet with a group like Jobbik, because it could be misinterpreted as condoning their politics.

"But the fact is that we, the Jewish people, and also Christians and other faiths, have to meet together with anybody to talk about what can be done in the future," Lauder said.

Lauder added that he did not believe that "everyone in Jobbik is anti-Semitic."

Hungary is home to one of the largest Jewish communities in Europe, yet a recent survey by pollster Median showed nearly a third of Hungarians expressed anti-Semitic views. That was most prevalent among Jobbik supporters, more than two-thirds of whom were found to be strongly or moderately anti-Semitic.

The WJC president also condemned acts of anti-Semitism. "There are statues of shoes along the Danube. They are there as a memorial to the Jewish people who were murdered there. No one has the right to spit in those shoes. No one. In this great city we send one clear message to the entire world: The Hungarian Jewish community is alive and well.

"And the Hungarian Jewish community is not going anywhere. We march today to say: We are here. We are alive. And here we will remain."

About 560,000 Hungarian Jews were murdered during the Holocaust, most of them in 1944. Today, Hungary's Jewish community numbers around 100,000 and it is still the largest in Central Europe.

Lauder highlighted the contribution of Hungarian Jews to their country. "Jews helped make this country great. When Jews are part of a society, any society, countries prosper. Jews win Nobel prizes. Jews create jobs and they cure diseases. Jews build – they don't tear down! Anti-Semites tear down, they destroy, they create nothing, they save no-one. And when Jews are forced to leave, they take their success with them," he told the crowd in central Budapest.

The March of the Living in Hungary is organized every year by the March of the Living Foundation, with the support of the MAZSIHISZ.

The Associated Press and Reuters contributed to this report.