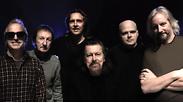 Three months before its arrival in Israel, The Orchestra's July 30 concert at the Charles Bronfman Auditorium in Tel Aviv has been sold out. In light of the high demand, the British rock band featuring former Electric Light Orchestra (ELO) members has decided to add another show at the Tel Aviv Hangar 11 on July 28, in addition to its July 29 concert in the same venue.

The band will also perform at the International Convention Centre in Haifa on July 31.

The successful band, which last played in Israel about seven years ago, has sold more than 100 million copies of its albums and won prestigious awards.

ELO was founded in the early 1970s by Roy Wood and Jeff Lynne and gained success with hit songs such as "Last Train to London," "Xanadu," "Livin' Thing" and "Mr. Blue Sky." Its successful concept album, "Time," released in 1981, combined different musical styles of string instruments and electronic beats.

The band was originally active from 1970 to 1986 and wad reformed in 2000. Its current members include Eric Troyer, Mik Kaminski, Louis Clark, Parthenon Huxley and Gordon Townsend.