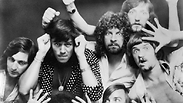 The Orchestra will perform three shows in Israel in Hangar 11 Tel Aviv on July 29, Charles Bronfman Auditorium Tel Aviv on July 30 and at the International Convention Centre in Haifa on July 31.
They played in Israel last in 2008 together with the Raanana Symphonic Orchestra. This time it will be a rock format show, with a unique sound of Mik Kaminski's violin.
The Orchestra was formed by the musicians who played in various years in Electric Light Orchestra and Electric Light Orchestra Part II. Due to legal issues after the departure of Ben Bevan from ELO Part II,
the band changed its name to The Orchestra and released an album No Rewind in 2001.
The band performs an evening full of all of ELO's greatest hits.
The group is being brought to Israel by the Hadran promotions and production company and ticket prices will range from NIS 179 to NIS 399 (about $45-102).