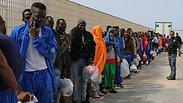 African migrants in Italy
Photo: AP
Europe is in shock. At least 800 people drowned in the Mediterranean Sea when a boat carrying African refugees capsized and disappeared into the depths. The precise number of victims remains unknown. They were asylum seekers – without passports or registration documents.
Their names, or aliases, were known only to the human smugglers who charged them large sums of money. The families they left behind, primarily in war-torn Libya, are used to waiting for a long time before receiving the first sign of life from those who make the arduous and dangerous journey to the promised land of Europe. This year, some 1,800 refugees have perished while making the crossing.
Europe is thus in shock. The same Europe wasn't shocked by the murder of around 200,000 Syrian citizens, mostly by their own regime. The sensitive and moral left didn't make much of an effort to demonstrate en masse outside the embassies of Syria or Iran, which is providing financial and military support to the slaughter in Syria. Tens of thousands have been killed in fierce fighting between armed gangs in Libya and Yemen, and hundreds of thousands have died in the African Jihadi wars we've been witnessing for decades.
But out of sight, out of mind. Europe is in shock now because the bodies are starting to wash up on its beautiful coastline. "The voices of mothers who lost their children at sea will haunt our consciences," Italian Prime Minister Matteo Renzi wrote in a heart-wrenching column that appeared in leading Western newspapers. "We must stop this carnage," he stated.
How exactly? It's obvious: First, convene a conference. The heads of the European Union gathered this week for an emergency summit to discuss and decide on the implementation of special measures to limit the tragedies associated with the wave of illegal immigration from Africa and the Middle East. In the wake of the conference, is Europe now about to open its doors to all refugees? No. The countries of Europe are democracies, and voters will immediately topple governments that agree to the absorption of immigrants en masse.
Dangerous Times
Op-ed: Some of the refugees who fled to Europe have become far more radical after finding sanctuary there, and the new Jihad recruits will come from among them; meanwhile, a political genocide of Israel is underway in educated circles.
"Italy has engaged its full capacity," Renzi, an avowed leftist, went on to say with respect to his country's efforts in the search-and-rescue and patrolling efforts, as well as the provision of food, medical care and initial shelter to the refugees. Unknowingly, the Italian prime minister essentially reiterated the argument used by the Swiss authorities when they closed the country's borders to Jewish refugees during World War II: "Our little lifeboat is full."
The German government's attempts to settle immigrants from the Middle East in abandoned buildings from the days of the Communists and even the Nazis are encountering uncompromising opposition from local residents.
So perhaps Europe will be opening its doors at least to a restricted number of refugees? Let's say, 250,000 a year? No again. The EU leaders decided at the summit to "resettle" just 5,000 refugees in Europe. Agreeing to absorb a larger number, immigration authorities explain, would only encourage those denied asylum to seek new illegal escape routes – not to mention the media uproar that would accompany the selection process.
As much as it would like to, Europe hasn't chosen to go the opposite route either – the hermetic sealing of its borders to all asylum seekers. The summit participants pledged to triple the budget (a mere 50 million euros this year) of Operation Triton – the sea and air patrol activities along the smuggling routes. Will it do any good? Marginally.
The European navies won't be able to forcibly prevent elusive refugee ships from entering their countries' territorial waters. European helicopters won't be able to bomb the smugglers at their bases. Israel has surrounded itself with impassable fences; Europe won't be building a wall around itself.
And then there's the deportation ("repatriation") option, which would involve sending around one million asylum seekers back to their countries of origin. European statesmen who are enthusiastically pushing for this option are invited to learn from our experience – parliamentary decisions overturned by a court of law, public protests, frequent amendments of the criteria, and the need to obtain the consent of the countries involved.
The threat of expulsion has yet to prove itself as a deterrent to asylum seekers who are willing to risk their lives.
Since Europe won't be sending its soldiers to fight and die for the sake of securing a normal life for the refugees in their bleeding countries, far away from Brussels, it will continue to be shocked – but a little less so each time, with every additional tragic incident.