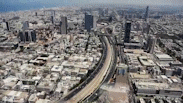 Planned apartment construction in Tel Aviv
Foreigners purchasing real estate in the center of Israel is nothing new. Over the past year, however, the familiar buyers, from France, Belgium and England, have been joined by new players in the market – Scandinavian Jews, primarily from Sweden and Denmark, who have conducted dozens of real-estate deals in the country of late, focusing on apartments in high-rise buildings in Tel Aviv and Herzliya.
Some of the buyers have moved into their new apartments, and some are buying for investment purposes or in preparation for a possible move to Israel in the future.
"I've brokered around 30 deals in Tel Aviv alone in the past few months, and various other significant deals in the city are in the works," says Marchello Enchilini, CEO of Franchi Real Estate, which specializes in working with foreign clients.
"We've seen an upswing in buyers from Scandinavia, primarily Sweden, on the backdrop of the anti-Semitism they are experiencing. We're not talking about purchases on the same scale as those being made by the French Jews, but there's definitely been an increase in recent months."
Vera Zinder, from Vera Prime Real Estate in Herzliya Pituach, has also noticed the trend. "Many come to check out properties or to rent initially so they can get a feel of the neighborhood and area. It's a new phenomenon; I don't recall buyers from these countries in the past."
Looking for good community services
The fact that Tel Aviv is the focus of the recent purchases comes as no surprise: According to Construction and Housing Ministry data, Tel Aviv lies second on the list of Israeli cities favored by foreign residents. Of the total number of real-estate purchases by non-residents in 2013, the ministry figures show, 31 percent were made in Jerusalem, 18 percent in Tel Aviv, 11 percent in Netanya and around six percent in Ashdod.
"Some of the clients are former Israelis or the children of emigrants, and most maintain their businesses overseas even after the move," Zinder says.
"I have a client from Sweden who wants to rent an apartment in Herzliya Pituach to see how her children acclimatize in the place. So, for the most part, they are also looking for good community services, schools and kindergartens. The properties that these buyers are looking for in Herzliya Pituach are going for $3-4 million. They are wealthy clients, but not as rich as buyers from France who have purchased properties here in the past for much higher prices."
Originally from Stockholm, Rosmarin purchased an apartment in north Tel Aviv last year. "I moved here because of the way I and many of the members of the Jewish community in Sweden have been feeling in recent years," she says.
"Anti-Semitism has increased; you can't walk around wearing a Star of David without feeling the hostility. Many of my Jewish friends are looking into and thinking about a move, despite the fact that most were born and raised in Sweden."
Apartment situated in Isrotel luxury hotel in German Colony neighborhood; costs NIS 17.7 million for 212 square meters.
Real-estate attorney Doron Ariel confirms the emergence of the new trend. "We're used to seeing buyers from France, America, Canada and other countries; there haven't been buyers from Scandinavia in the past," Ariel says.
"According to my estimates, and based on conversations I've had with colleagues in the field, we're talking about at least several dozen properties that have been sold in Tel Aviv – and considering the size of those communities, that's definitely a large number. Lately, we have sold several luxury apartments in central Tel Aviv to buyers from Sweden and the Netherlands. In almost all the deals, one of the spouses is a former Israeli who left the country many years ago."
Preparing the ground
In the wake of the upsurge in anti-Semitism in the Scandinavian countries over the past year, says Jewish Agency official Shay Felber, some members of the Jewish communities there are starting to look into the option of moving or returning, in the case of expats, to Israel.
"Malmo, in Sweden, now has a Muslim majority and a very small Jewish community of just a few hundred people – and the hostility is palpable," Felber says. "Businesses owned by Jews have been vandalized in Malmo in recent months, and the city's Jewish cemetery was desecrated. It's important to understand that not all buyers are necessarily moving to Israel, but some are starting to prepare the ground for such a move."