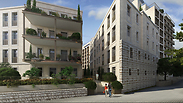 Isrotel luxury hotel in Jerusalem
Photo: Studio 84
The Isrotel chain last week sold Jerusalem's most expensive apartment per square meter (NIS 84 thousand per square meter), receiving a total of NIS 17.7 million from the purchaser, a Swiss Jew.
The apartment is situated in the German Colony, at a new compound Isrotel is building as part of its luxury hotel chain.
The hotel is situated on 5.6 hectares on the popular Emek Refaim Street and designed by Israeli architect Joel Feigin. It is expected to open towards the end of 2016.
The construction cost of the hotel is thought to be around half a billion shekels. It includes some 250 guestrooms of the highest quality, some of which be situated in two Templar-built structures, currently undergoing renovation in line with the regulations of the Jerusalem municipality and the Israel Antiquities Authority. Typical features include large rooms and high ceilings, decorated to match the original style of the buildings.
The complex includes two buildings of four stories each, for a total of 11 apartments. The apartment sold last week covers the entire fourth floor of one of the buildings, and has a total floor size of 212 square meters. According Isrotel CEO Lior Raviv, it is the highest ever price per square meter for an apartment in Jerusalem.
"The new hotel complex has 11 apartments, including two garden apartments that are more expensive than the one sold. Today, it is difficult to build a luxury hotel even if apartments are part of the project," said Raviv.
Yaron Regev, Isrotel's director of commerce and retail, says the sale identifies a trend of wealthy, traditional Jews, come from abroad to buy apartments in Jerusalem.