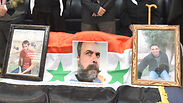 Mourning in Majdal Shams
Photo: Avihu Shapira
Two of the four terrorists killed by Israel Defense Forces troops on the Syrian border on Sunday were brothers from the Druze town of Majdal Shams in the Golan Heights. Tair Mahmoud, 34, and his 22-year-old sibling Nazih were born in Majdal Shams, but later moved to the village of Hader on the Syrian side of the Golan Heights.
The brothers had been fighting alongside Syrian President Bashar Assad's forces. They were killed laying explosives to target IDF troops - a move thought to have been the handiwork of Hezbollah. A Lebanese news site reported the four were part of the Syrian Resistance organization formed in the area and trained by Hezbollah.
"They lived just across the border. We would see them when they'd come out to hang the washing," their aunt, Sahar Mahmoud, who lives in Majdal Shams, said Monday.
"I find it hard to believe that they were really trying to lay an explosive device as it's been claimed, and it's very difficult for me to hear that they were killed. Nazih was supposed to be getting married on Friday and was counting the days. Who goes out to plant explosive devices before his wedding?"
Upon receiving the news about the brothers' deaths, family members in Majdal Shams set up a mourners' tent in the town, with some relatives describing the two as "martyrs" and "heroes."
Majdal Shams Mayor Dolan Abu Saleh, however, strongly condemned the establishment of the tent, noting: "It's absurd. While the IDF busies itself with the defense of the Golan Heights and the residents of the town, there are those who are spitting into the well from which they drink."
The spiritual leader of the Druze community, Sheikh Muwaffak Tarif, also issued a statement of condemnation on Monday. "What matters to us is the existence of the State of Israel and its security," the statement read.
"These Druze do not represent any Druze in the country, and the vast majority in the Golan do not support such criminal acts."