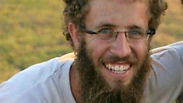 Shalom Cherki was killed during vehicular attack on eve of Holocaust Memorial Day.
Two weeks after a vehicular attack killed a 26-year-old Israeli on the eve of Holocaust Memorial Day, a video has been released that captures the moment 37 year-old Khaled Kutina from East Jerusalem rammed his car into pedestrians in Jerusalem.

The video shows how Kutina veered sharply from the lane he had been driving in and ran over Yohai Cherki, 26, and Shira Klein, 20.

Security camera footage.

Cherki succumbed to his wounds at a hospital after the attack, while Klein was left in serious condition.

The video, captured by a security camera, was one of the main pieces of evidence that led police investigators to determine that the event was not an accident but a nationalistically-motivated attack.

The Jerusalem District Attorney filed an indictment with the Jerusalem District Court on Monday morning against Kutina.

Kutina said he carried out the attack because "Jews" lead to heavy traffic at Palestinian checkpoints.

The district attorney also requested that Kutina's remand be extended until the end of the proceedings.