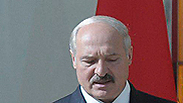 Belarusian President Alexander Lukashenko
Photo: Reuters
Belarus leader raps Jewish governor for not taking Jews 'under control'
President Lukashenko calls out Minsk governor Shapiro in national speech, praises Jewish population for resistance to Nazi occupation: 'They don't like to get their hands dirty or fight, but they did get their hands dirty with us!'
Belarusian President Alexander Lukashenko criticized on Wednesday a Jewish regional governor in Belarus for not taking the country's Jewish population "under control" as he had ordered.

In a state-of-the-nation address, Lukashenko expressed annoyance that a popular online publication, which has a Jewish director, had criticized his decree imposing a tax on people who worked fewer than 183 days a year.

Jewish Legacy

British charity The Together Plan working to retrieve stones and create memorial at site of former Jewish cemetery in city.

Addressing the Minsk region governor Semyon Shapiro by name, Lukashenko said the head of the tut.by website, Yuri Zisser, was "not behaving correctly".

"I told you a year ago to take all the Jews of Belarus under control," said the president, a leader who often ruffles feathers with his impromptu comments.

A 2009 census said Jews made up 0.14 percent of Belarus's 9.5 million population.

Having admonished Shapiro, Lukashenko, who has ruled the small ex-Soviet country with an iron fist since 1994, then poked fun at him, crediting his religious fervor with producing a favorable rainfall in the region.

"Shapiro prayed in the synagogue. There was rain only in Minsk region. Semyon Borisovich (Shapiro) is a good guy," Lukashenko said.

Returning to the theme at the end of a three-hour summary of the economy and Belarus's international standing, he praised the Jewish population for its role in resistance to Nazi occupation during World War Two, when an estimated 800,000 local Jews died.

He went on to describe the Jews as being "white boned" meaning they did not like to do menial work. "They don't like to get their hands dirty or fight, but they did get their hands dirty with us!"

Zisser, whose online information outlet is the most powerful in Belarus, said he was puzzled by Lukashenko's remarks.

"Officials often express various opinions to us, often offensive ones. But we cannot distort information to suit somebody's wishes," he told Reuters.

The head of a Belarusian Jewish association, Borys Herzen, played down the importance of Lukashenko's comments.

"Lukashenko is an emotional person and often does not express himself very elegantly... In fact we do not see here in Belarus signs of any anti-Semitism," Herzen told Reuters.

Lukashenko caused a stir in 2007 when he said that Jews had turned the city of Bobruisk "into a pigsty". He subsequently sent a delegation to Israel on a damage-limitation trip.