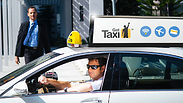 GetTaxi app branches out.
Photo: Ronen Boidek
GetTaxi, the popular Israeli cab-hailing application, is branching out into new fields.
The Israeli-based start-up has rebranded as Gett and will soon allow users to order a wide range of services and products, from pizza and sushi, to flowers and wine, massages and manicures, cleaners and even doctors – and all within 10 minutes, the company promises.
The new services will be available as of July in all the countries in which Gett currently operates – Israel, Britain, Russia and the United States. In Israel, initially, the full range will be offered only in the Dan region, with other areas of the country to enjoy only some of the new products to begin with. Company officials, however, are promising full coverage in Israel in the very near future.
Gett co-founder and CEO Shahar Waiser announced the upgrade on Monday from New York, where he has been living of late in order to get to know the markets better and manage the company's global operations, calling the move "the most significant thing we've ever done."
Waiser says all the new services and products will be available under a single application, but adds that that the company has no intention of becoming a "get-everything" provider.
"We aren't going to replace the experience of sitting in gourmet restaurants or the experience of shopping in supermarkets, but if you're at home and feel like having a pizza, wine, or chocolate, or if you've just run out of milk, these products will reach you in a few minutes," he says.
"We'll be focusing on consumer goods and basic services, fields in which we can make a big change. The goal is for Gett to become the first application you open to perform essential tasks, for it to save you time efficiently, effectively and at an affordable price."
Provision of the services depends on working with external suppliers, and Gett is already in advanced negotiations with various companies. "We'll have only a few cooperation agreements because we want to make sure of uniformity and quality of service, together with an experience that is better than the market average," Waiser says.
As for the company's promise to deliver a hot pizza within 10 minutes, Waiser is keeping his cards close to his chest for now. "We'll give more details at the launch, but most of the categories we'll offer can be supplied within 10 minutes," he says.
Waiser believes that within a year of the introduction of the new categories, the new services will be used no less than the taxi-ordering services. He stresses, however, that the field of taxis will continue to be the main part of the company's activities.
Co-founded by Waiser and Roi More, Gett has more than 10 million subscribers in 32 major cities. In total, approximately 20,000 cab drivers work with Gett, including some 5,000 in Israel and about 2,000 in New York. The company is expected to have revenues of $500 million from its taxi services in 2015.