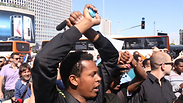 Protesters in Tel Aviv
Photo: Motti Kimchi
Hundreds of members of the Israeli Ethiopian community protested against discrimination and police brutality on Sunday afternoon in Tel Aviv, calling out "Not black, not white, we're all human beings."

Protesters marched from the the Azrieli towers to Kiryat HaMemshala (government offices), shutting down traffic on the Ayalon Highway in both directions. They blocked the Kaplan-Begin junction, while police closed other main traffic arteries in central Tel Aviv.

Police warned that if protestors did not clear the major road, it intended to remove them by force. Clashes between police and protestors erupted near the Azrieli Center. Ayalon was reopened after three hours.

The protestors then proceeded to Rabin Square, where Tel Aviv's city hall is located. At least five police officers were wounded and were being treated inside city hall. Police were using pepper spray and stun grenades. At least three civilians were lightly wounded.

Law enforcement authorities deployed additional forces to the area, including 300 officers and mounted police.


The protesters, who were joined by social activists, were crossing their hands over their heads, to symbolize being handcuffed, and calling "a violent cop should be jailed."

Brig. Gen. Yoram Ohayon, deputy commander of the police's Tel Aviv district, accused social activists and organizations of "inciting members of the community to keep protesting after the police has already reached understandings with them."

Prime Minister Benjamin Netanyahu has scheduled a meeting with representatives of the Israeli Ethiopian community on Monday, and also planned to meet IDF soldier Damas Pakada, who was beaten by police officers in an incident captured on video. The meeting will also include representatives from the Ministries of Public Security, Welfare, Absorption, and Interior.

The US Embassy in Tel Aviv has issued an rare message warning its citizens in Israel of the protest march.

"The Israel National Police advises the US Embassy that a demonstration planned by members of the Ethiopian Israeli community is scheduled for today, Sunday, May 3, at 3 pm in the vicinity of the Kirya, Kaplan Street, and Azrieli Towers in central Tel Aviv, near district government offices and the Israeli Defense Forces headquarters," the message read.

"This demonstration has the potential of drawing large crowds. A similar protest held in Jerusalem on Thursday lasted several hours and turned violent, resulting in injuries, arrests, and property damage. We advise US citizens to avoid the area and to monitor local media for updates," the Embassy went on to say.

Protest organizers hope to avoid violent clashes between demonstrators and police forces this time, after 12 protesters and three policemen were hurt in a previous demonstration in Jerusalem on Thursday night.

"It's not a good thing there was violence and injuries on both sides, but people need to understand we're facing a problem that needs to be addressed and resolved after dozens of years of inequality and racism," said a prominent activist from the Ethiopian community on Friday.

Omri Efraim, Roi Yanovsky

A video depicting a police officer brutally beating an Ethiopian-Israeli IDF soldier for no visible reason sparked outrage in the Ethiopian community; several describe similar instances - the only difference was there was no camera to document them by chance.

Safinau Malako, who lives in an absorption center in Mevaseret Zion, said the current struggle of the Ethiopian community in Israel must lead to different results than in the past.

"We've had struggles that ended without results, and this time we have to continue and not stop until the society and politicians wake up. This situation cannot continue. We're Israelis just like everyone else. A large portion of Israeli Ethiopians were born here and they deserve their rights," he said.

After protests in Jerusalem got out of hand and led to clashing between demonstrators and police, Police chief Yohanan Danino instructed the team looking into claims made by Israeli Ethiopians of police brutality to work faster. Police officials said the team, which was formed on Thursday, will formulate its conclusions and recommend ways of action in the coming days.

Danino stressed following the violent protests on Thursday that the police would not allow further violations of law and order.

Itamar Eichner, Michal Margalit and Ahiya Raved contributed to this report.