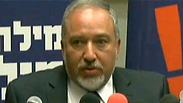 Avigdor Lieberman: New government 'smacks of opportunism'
Photo: Ofer Meir
Avigdor Lieberman will lead his Yisrael Beytenu party into opposition and will not join the new government, the outgoing foreign minister announced Monday, effectively ending a years-long partnership with Prime Minister Benjamin Netanyahu's Likud.

"I am happy we chose principles and not portfolios", Lieberman said at a faction meeting in Jerusalem. "What's being built is not a national camp, but a government that smacks of opportunism".

The Yisrael Beytenu leader also said he was resigning from his position as foreign minister.

Lieberman lashed out at the disappearance of the controversial nationality bill, which sought to legally define Israel as the nation state of the Jewish people, and determine that the right to national self determination in Israel belongs solely to the Jewish people.

"Someone vetoed the issue and suddenly it's off the agenda. The coalition does not reflect the position of the national camp. This government has no intention of overthrowing the Hamas regime," he said.

"The ink on the governance law has yet to dry and they're already increasing the numbers of ministers and deputy ministers to unlimited amounts. This is unacceptable," Lieberman added.

The Yisrael Beytenu leader also slammed the coalition deal Likud signed with the United Torah Judaism, which will result in the cancelation of many reforms agreed upon in the last Knesset.

Two weeks ago, Yisrael Beytenu faction chairman and coalition negotiator Robert Ilatov stated that if Netanyahu did not go back on the agreements he had made with the religious parties, then Yisrael Beytenu would remain in opposition.

On Monday, Lieberman made good on that pledge.

With Yisrael Beytnetnu's departure, Netanyahu is now looking at a coalition of just 61 out of the 120 members of the Knesset.

Netanyahu could ask the leading centre-left opposition party Zionist Union to join forces in a "national unity" government, though both sides have so far played down any such possibility.

Shelly Yachimovich, a senior Zionist Union lawmaker, did not rule out her party joining Netanyahu but said it appeared unlikely.

"I don't see an option like this," she told Israel's parliamentary television station. "It would be silly of me to consider something that does not exist."

Lieberman and Netanyahu have had a long-standing political partnership, which began to fray last year. In October 2012, the two party leaders announced that they would run on a joint ticket in the January 2013 elections, as Likud Beytenu. The election victory saw Netanyahu return as prime minister and gave Lieberman the Foreign Ministry. But Lieberman pulled his party out of the partnership in July last year, and each ran on a separate ticket in the elections earlier this year. Yisrael Beytenu won just six seats, down from 13.

Meanwhile, Shas leader Aryeh Deri said Monday he believes that on Wednesday, Netanyahu will be able to present to President Rivlin a government of only 61 MKs.

"We always wanted a wide government, we could've established a wide government but we didn't," Deri said.

"All members of the coalition must overcome their differences. Sometimes a small and homogenous coalition is better than a wide one," he added.

Reuters contributed to this report.