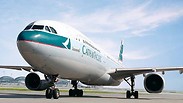 Cathay Pacific plane. Coming soon to Ben-Gurion Airport?
Cathay Pacific Airways, which won the World's Best Airline Award for the fourth time in 2014, is looking into launching a new route from Hong Kong to Tel Aviv.

Company representatives visited Israel about a week ago and met with local aviation officials to examine the procedures which will allow the airline to start flying to the Holy Land. The delegation's visit included meetings with members of the Israel Airports Authority and Civil Aviation Authority and security officials at Ben-Gurion Airport.

Cheap Travel

Irish low-cost airline plans to offer round-trip tickets from Tel Aviv to different destinations in Europe for less than €140.

Yedioth Ahronoth has learned that Cathay Pacific plans to start operating the flights towards the middle of next year on its new Airbus A350 planes. The company has purchased 20 Airbus A350-1000 and Airbus A350-900 which will be activated in the coming months.

Cathay Pacific is Hong Kong's flagship carrier, operating passenger flights and cargo flights. The company offers services to 168 destinations in 42 countries worldwide on direct flights and codeshare agreements with other airlines. The company has a fleet of Boeing 747 and 777 aircraft, as well as Airbus A330 and A340, in addition to a fleet of smaller planes to short-haul destinations in Asia.

Cathay Pacific was founded in 1946 by Australian and American entrepreneurs and is a member of the Oneworld airline alliance, which also includes American Airlines, British Airways, Finnair, Iberia and other companies. In 2014, it was named 2014 Airline of the Year by Skytrax, a UK-based consultancy which ranks the world's best airlines and airports every year.

The company has won the World's Best Airline award four times, more than any other airline in the world, thanks to its excellent service in all travel classes – first, business, premium economy and economy, thanks to the food and beverages it serves (caviar and champagne in first class and a variety of gourmet meals in business class), and thanks for the groundcrew and aircrew service, in addition to its improved inflight entertainment system which offers hundreds of films, television programs, music programs and games.

El Al Israel Airlines is currently the only company offering flights from Tel Aviv to Hong Kong. Cathay Pacific's clear advantage, if it does fly to Israel, will be its network of connecting flights to the Far East and Australia.

Cathay Pacific is represented in Israel by the Tal Aviation company.