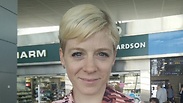 Ryanair's deputy director of route development, Kate Sherry. 'We want our flag in Israel'
Photo: Danny Sadeh
Irish low-cost airline Ryanair is resuming talks in Israel to operate flights from Tel Aviv to several destinations in Europe. The company's plan is to offer round-trip tickets for €140 (about $150), but start with lower fares. A pilot is scheduled to take place in three or four months.

Ryanair is defined as an "ultra low-cost" airline thanks to its low fares, which sometimes total several dozen euros from one destination to another within Europe.

Bon Voyage!

Israeli travelers will be offered new destinations in upcoming summer season; number of low-cost flights expected to increase.

"We want our flag in the State of Israel and we will offer you new destinations and new opportunities," Ryanair's deputy director of route development, Kate Sherry, who arrived in Israel over the weekend, told Yedioth Ahronoth. "Since the skies in Israel opened, we have grown by more than 15 million passengers, but unfortunately Israel is not on our route map yet."

Ryanair is the largest airline in Europe by passenger numbers. In 2014, it carried more than 86 million travelers, making it the largest airline in the world by passengers (the top four airlines are American).

According to Sherry, the biggest barrier for regular activity in Israel is the commissions airlines have to pay for each passenger. "We have a very unique business model, and we are failing to implement it in Israel," she explains. "The taxation in the Israeli airport is very high and it's problematic for our business model, which is based on low commissions. These commissions allow us to significantly reduce the ticket prices.

"In Israel, for example, we have to pay a commission of $37 per passenger. We have destinations in Europe in which the flight ticket costs less than these commissions."

Sherry adds that the company has received a significant reduction in commissions in every new market it has entered. "In Berlin, for example, we got a 75% reduction in the commission cost, and then the commissions change according to the number of passengers we bring. In Cyprus there is a €26 tax. We receive a reduction of €20, but we bring them hundreds of thousands of tourists.

"Every tourist we bring here will increase the state's income from tourism and the Israel Airports Authority's income. We can bring a million passengers to Israel a year from new destinations. I am talking about new passengers in addition to the ones that are already arriving in the country."

Asked where will the passengers come from, Sherry notes that the company can bring tourists from most of its bases in Europe. "Our plans were for destinations like London, Berlin, Milan, Rome and Bratislava, but there are also destinations like Dusseldorf, Cologne, Bremen, Bade-Baden, Gdańsk, Warsaw, Wrocław, Malaga and many others destinations in eastern, central and western Europe," she elaborates.

"We are talking about some destinations which include a certain risk for the airline, and that's why it is asking for reductions in order to minimize the expenses involved in launching such routes."