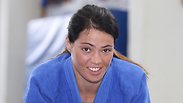 'It's great to be a part of this successful field'
Photo: Oren Aharoni
With 2014 world champion and 2015 runner-up Yarden Gerbi already marked as one of the country's big hopes for a medal at Rio 2016, Israeli women's judo now has another serious contender for Olympic glory – Linda Bolder, 26, a native of the Netherlands who recently joined the national team.
Married to a Dutch Jewish businessman, Bolder fights in the -70kg weight category; and last Saturday in Croatia the new recruit won her fourth consecutive medal since fighting under the Israeli flag, capturing the gold at the Zagreb Grand Prix.
With Rio 2016 her ultimate target, Bolder's principal goals in 2015 include qualification for the Masters in Morocco in three weeks, the European Championships in Baku, Azerbaijan, in June, and the World Championships in Kazakhstan in August. But first there's the Baku Grand Slam this weekend.
"I hope that the last four competitions at which I managed to get onto the podium are evidence of the level I'm at now," Bolder says. "I performed well and it was important for my self-confidence after my serious injury and the surgery on my knee."
In March 2014, Bolder was injured at a competition in Dusseldorf, Germany, and underwent ligament reconstruction surgery, which kept her off the mat for the rest of the year.
"Before the competition in Croatia," she says, "I was ranked No. 31 in the world, and now I think I will move up to around No. 20. To qualify for the Masters (a competition for the top 16 in the world in the various weight categories), I need another good result in Baku."
You've been raking in the medals in your recent competitions.
"Yes, it's nice. I've also beaten quality rivals, like the world champion in Turkey and now (in Zagreb) the Canadian, who is ranked No. 3 in the world. I feel like I'm on the right track."
Peer's Return
Israel's leading female tennis player has had a rough few years, but Shahar Peer is determined to get back on form.
So is an Olympic medal a realistic goal?
"I've never competed in the Olympics, but I'm confident. The problem in judo is that you can prepare for four years, make it to an Olympic fight, and lose because of something stupid. But I definitely won't be feeling any pressure. Things in my weight category are pretty even, with at least eight athletes who see themselves as medal contenders. The question is who will be the most prepared on that given day, particularly mentally."
On the podium on Saturday, did you try to sing Hatikva?
"I know that the national anthem is very important for all Israelis. I tried. I'm studying Hebrew several times a week and promise that in a few months, I'll know every word."
Bolder divides her time between the Netherlands, where her family lives, training camps with the Israeli national team at the Wingate Institute, and competitions around the world.
"Perhaps I will continue to live here after I retire," she says. "You never know where life will take you; but it also depends on my husband, who is a businessman and travels around the world. It's still too early to think about that right now."
Bolder is now part of a high-quality Israeli women's judo team, with at least three or four of its members expected to compete in Rio next year. Gerbi (-63kg), Bolder and Gili Cohen (-52kg) look certain to qualify for the Olympics, and Camila Minakawa and Amelie Rosseneu are also in contention.
"I've been following Israeli judo since before coming here," Bolder says. "I was told beforehand that judo is Israel's most successful sport in the country. Half of Israel's Olympic medals were won by judokas, and that says it all. There's Yarden, of course, who is a huge star around the world, and it's great to be a part of this successful field."