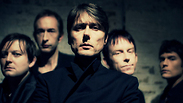 Suede. Fifth performance in Israel
The 1990s are sending another musical icon to Israel: English alternative rock band Suede, which will perform at the Menora Mivtachim Arena in Tel Aviv on July 30.

This will be the group's fifth performance in Israel. Suede, which is extremely popular among the Israeli audience, last performed in the country in 2011. Its lead vocalist, Brett Anderson gave a solo concert in Israel in 2008. The band will arrive in Israel this summer as part of a tour promoting its upcoming new album.

Hot Summer

After announcing concert in 2010 and then cancelling, Ynet learns American rock band may finally be coming to Israel.

Suede is one of the most important bands to come out of Britain in the 1990s. It is considered one of the pioneers of the Britpop movement, a subgenre of alternative rock.

The group made its breakthrough upon the release of its first album, "Suede," in 1993. At the time, it was the fastest-selling debut album in British history and won the 1993 Mercury Music Prize.

Suede was very successful around the world in the 1990s, produced many hits – including "Animal Nitrate," "So Young," "Beautiful Ones" – and performed across the world, but broke up in 2003.

The band members reunited in 2010 for a charity show, without original guitarist Bernard Butler. The gig quickly turned into a series of concerts, and the band began performing regularly again.

In February, Suede received the prestigious Godlike Genius Award, handed out by British music magazine NME (New Musical Express). In June, the band is slated to perform at the famous Glastonbury Festival. Its seventh studio album will be released later this year.

Ticket prices for Suede's Tel Aviv concert will start at NIS 199 (about $51).