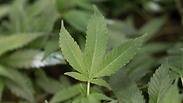 'Cannabis is far more present in the public discourse than before
Photo: AP
The time has come for the Israel Police and the state to revisit its marijuana laws, police commander Yohanan Danino said Wednesday.
The possession, sale and cultivation of marijuana is a crime in Israel, although penalties for personal use are relatively light. Doctors can prescribe medical marijuana to patients, but must first receive approval from the Health Ministry.
Read more on this topic:
Israel pushing ahead in medical marijuana industry
Danino made the comments during a visit to a school in Beit Shemesh, when students asked him about the legal use of cannabis and questioned whether police resources in a war on drugs, even when those targeted only consume small amounts of marijuana.

"Cannabis has become far more present in the public discourse today than it was before," said Danino. "Many more citizens want and demand permission to use cannabis in one form or another, and the police have traditionally over the years resisted.

"MKs now elected to the Knesset have asked me about the police's stance today regarding cannabis. They were surprised to hear that I think it's time that Israel Police, together with the State of Israel, examines its traditional position."

Danino added that police must display greater awareness of cultural and societal norms regarding marijuana use.

"Once there were very few permits for medical marijuana, a few hundred; today we have a couple of thousand," said Danino. "It is forbidden by law, but I do think we should sit down, learn what's going on in the wider world."

After the meeting, police sources said that Danino's comments were grounded in "the need to examine the positive and negative sides of the issue, and there are plenty of them, and learn from the experiences of other countries."

They noted that Danino had held talks with his Dutch counterpart, who recommended that the police chief "think carefully before allowing the use of soft drugs, as it has resulted in serious problems there."