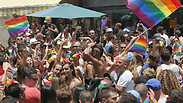 Last year's Pride Parade in Tel Aviv
Photo: Ido Erez
Tel Aviv's gay pride events will be bigger than ever this year: A day after the traditional Pride Parade which will be held on Friday, June 12, the city's Bloomfield Stadium will host the party biggest of its kind ever held in Israel.

The party will begin on Saturday, June 13, at 2 pm and continue into the night.

Pride Trip

American travel agency for gay Jews offers journey to concentration camp in Poland concluding with Prague pride parade. Trip's organizer, who comes from an ultra-Orthodox family of Holocaust survivors, says he doesn't see combination as inappropriate.

The special day event (Official T-Dance), which is expected to be attended by 5,000 to 7,000 people, will be led by Israeli and international DJ Offer Nissim, who will get on the stage which has previously hosted performances by Barbra Streisand and Rihanna. In the past few years, Nissim has been playing at the world's biggest pride parades and he is considered one of the most acclaimed and busy DJs and producers in the LGBT community.

The event will be produced by FFF Shirazi and Forever Tel Aviv, which for the first time will take the pride celebrations from Tel Aviv's clubs out into the open air.

The festive and live concert, which will remind the scene's veterans of the major raves of the 1990s, will host some of the greatest singers in Israel who have cooperated with Nissim in the past – including Rita, Sarit Hadad and Ivri Lider – as well as musicians who will participate in the electronic party and international artists who will arrive in Israel especially for the event.
'Like every major European capital'
The major pride party in Bloomfield won't be closed to the LGBT community. Homosexuals, bisexuals, transgender and straight people can already purchase their tickets at the gaypartix.com website. Ticket prices start at NIS 180 (about $47).

The 2015 gay pride events will kick off on the week of June 7 and will include different parties throughout the week. On Friday evening, the night before the Bloomfield party, the Oman 17 club will host a party titled "Top Gun," which will be produced by FFF.

Sources involved in the production told Ynet that the decision to come out of the Tel Aviv clubs was made following major pride events in other places around the world.

"The challenge was accepted like in every major European capital. It's time to show the world Tel Aviv at its best, in a spacious stadium with all the equipment of a stadium for an event of this magnitude," one of the sources said.