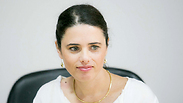 Shaked enters Justice Ministry
Photo: Noam Moskovich
New justice minister seeks change to Supreme Court power
Ayelet Shaked says balance between Supreme Court and Knesset should be found; 'I will not be the one to soften the court's bite, but I will also not allow it to eat away at the legal authority of the legislative and executive branches,' she says.
New Justice Minister Ayelet Shaked said on Sunday she would seek a new balance that would rein in the powers of the Supreme Court over the Knesset and the government, a policy critics fear would restrict judicial oversight.

The appointment of Bayit Yehudi's Shaked as justice minister has caused a stir in Israel and abroad over her party's judicial policies, which opponents say will harm democracy.

In her inaugural speech, Shaked sought to play down those concerns, pledging to preserve the status of the court that has been hailed by Israel's president as an important defender of minority rights in a country with no formal constitution.

"The justice system is a foundation of our existence as a democratic society, I will not be the one to soften its bite," Shaked said.

"But I will also not allow it to eat away at the legal authority of the legislative and executive branches. We must find the formula for the right balance between the branches."

The Supreme Court's judicial review of legislation, and instances in recent years in which it has struck down new laws, have angered right-wing and religious parties.

Since entering the Knesset in 2013, Shaked, a 39-year-old former software engineer, has backed a number of controversial bills that would have an impact on the court's powers.

One bill proposed by Prime Minister Benjamin Netanyahu's right-wing Likud and Bayit Yehudi would make it easier for the Knesset to override judicial quashing of a law.

Another seeks to limit the court's ability to throw out laws by requiring such decisions be considered by its full 15-justice bench.

But the new government's one-seat majority in the Knesset, and the opposition of a centrist partner in Netanyahu's coalition to legislation seen as weakening the court, could limit Shaked's ability to affect sweeping changes.

"She (Shaked) has no majority," Yossi Beilin, a former Justice Minister from the left-wing Labor Party, told Army Radio. "My concern that she could take the Israeli justice system back to dark days exists, but it is minor."

Shaked also backs legislation that would enshrine Israel as a Jewish nation-state, to the anger of Israel's 20 percent Arab minority and wants to restrict donations from foreign governments to non-governmental organizations in Israel.

Members of Likud and Jewish Home also want to add more legislators to a judge-selection panel, a move critics say could politicize the bench.

But senior Likud member, Zeev Elkin, who supports that step, said it was unlikely to move forward. "It's not on the agenda in this coalition," he told Army Radio on Thursday.

Shaked gave an interview to the New York Times which was printed over the weekend, in which she told of the origins of her political views.

She told the paper that during her time in the IDF, she served in Hebron, where she "just realized there will not be a solution right now" to the Israeli-Palestinian conflict.

On Israel's Arab citizens, she said they "should be an integrated part of the Israeli society," said they did not face discrimination and said more spots should be created for them to do national service.

When asked about her agenda for the Justice Ministry, like Tzipi Hotovely at the Foreign Ministry, Shaked decided not to provide an answer for now. "First I want to enter the office, and then talk about my plans," she told the Times.

Yitzhak Benhorin contributed to this report.