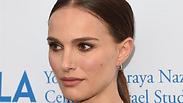 Natalie Portman
Photo: Getty Images
CANNES - Natalie Portman's directorial debut, "A Tale of Love and Darkness," is set around the time of the formation of Israel, but the Oscar-winning actress says it doesn't have a political agenda.

The film, adapted from an autobiographical novel by Amos Oz, premiered over the weekend at the Cannes Film Festival. It charts the birth of the state and a boy's initiation into the realities of disappointment and death.

Politics

Israeli-American actress, producer and director talks politics in new cover story for Hollywood Reporter and discusses living in Paris after the terror attacks, Gaza e-mail chains and fashion designer John Galliano's anti-Semetic rant.

"I think the movie is very much about this very particular, specific family story. Of course, it happens at a crazy moment in history, which I think is a big sort of weight on their backs. It's sort of a pressure cooker for the family, but there's not really a political agenda behind it," said Portman in an interview with The Associated Press on Sunday.

"(Amos) Oz became one of Israel's leading peace advocates, so it's not the most controversial, I suppose, of political aspects to the film."

The Israeli-born Portman also wrote the screenplay and stars in the Hebrew-language feature as the boy's mother Fania, a cultured and imaginative woman whose dreams can't withstand grinding everyday reality.

For Portman, making the film in Hebrew was imperative.

"The language is so important to the story and such an important character," she said.

"Someone said to me once, 'Americans always want to make foreign movies and have French characters or Spanish characters speak English, but with a French accent or Spanish accent and it's so silly.' Could you imagine making a movie about George Washington in French and having him have an American accent in French?"

Portman's film is playing as a special screening outside of the main competition at Cannes. It's gotten a lukewarm response from critics, but at the premiere, it received a standing ovation.