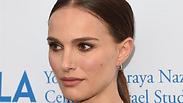 Natalie Portman at event honoring Amoz Oz at UCLA.
Photo: Getty Images
Natalie Portman had some harsh words to say about Prime Minister Benjamin Netanyahu in a recent interview for the cover of The Hollywood Reporter.

The 33-year-old actress, who was born in Jerusalem as Natalie Hershlag, said: "I'm very much against Netanyahu. Against. I am very, very upset and disappointed that he was re-elected. I find his racist comments horrific.

"However, I don't — what I want to make sure is, I don't want to use my platform (the wrong way). I feel like there's some people who become prominent, and then it's out in the foreign press. You know, shit on Israel. I do not. I don't want to do that."

Portman, who is now in the post-production phase of her new film "A Tale of Love and Darkness," an adaptation of Amos Oz's memoir, recently moved to Paris with her Husband, Ballet dancer Benjamin Millepied, and son Aleph.

When asked whether she is nervous living in France after the recent terror attack at the Charlie Hebdo offices and a Jewish kosher grocery store, Portman responded: "Yes, but I'd feel nervous being a black man in this country. I'd feel nervous being a Muslim in many places."

Furthermore, when asked if she was stirred by the killings in Paris she said: "Listen. I'm from Israel."

Hollywood Support

During short private visit to Israel, Hollywood star signs petition calling on next government to end child poverty in the country.

As a Dior spokesmodel, Portman was also asked about her thoughts of designer John Galliano's anti-Semitic rant.

"I don't see why not to be forgiving to someone who is, I mean, someone who's trying to change," she said. "However, I don't think those comments are ever OK. I don't forgive the comments, but … we've all done things that we regret."

In the blunt interview, Portman also discussed her name being published in a private e-mail chain sent by Relativity CEO Ryan Kavanaugh. Some of the e-mails sent included discussions about how the Holocaust could happen again and a decrease of Israel support in US colleges.

"I was very unhappy to be included in those emails," said Portman, "and I told (Kavanaugh) so. I wrote to him that I didn't want to be part of that group. I didn't want to be receiving those emails at all. I find them very disturbing."

Portman described herself as left-leaning, especially when it comes to Israeli politics. She recently attended a ceremony at UCLA where Amoz Oz received a prize at the Younes and Soroya Center for Israel studies.

Portman's latest film, which was shot in Jerusalem, is set to premiere at the Cannes Film Festival at a special screening on May 13.

Portman received funding for the film from various Israeli film funds, including the The Keren Rabinovitch Foundation.

"I don't agree with Portman's comments, but we do not censor the opinions of directors or producers," said Chairman of the Keren Rabinovitch Foundation Giora Eini.

"If they say their opinions, what can we do? There is nothing in this film that hurts the country, we supported the film and did not give a scholarship to the creator. The foundation does not have a political opinion, it supports Israeli films that have artistic values and the movie does not harm the country in any way, shape or form."