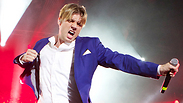 Backstreet Boys perform in Israel
Photo: Orit Pnini
The Backstreet Boys, the bestselling boy band in history, took to the stage at Ra'anana's Amphi Park on Tuesday evening in front of 20,000 fans for the first of three sold-out shows.
The five members of the group – Nick Carter, Howie Dorough, Brian Littrell, AJ McLean, and Kevin Richardson – arrived in Israel earlier this week and have been visiting attractions around the country.
The Backstreet Boys performing for the enthusiastic crowd in Ra'anana (צילום: עמית קוטלר)
Several dozen fans congregated around the park by afternoon, many holding signs.
Opening the show was DJ Itay Galo of Atisuto with an appropriately 90s-themed set that included tracks by Solid Harmonie, the Spice Girls, Haddaway, and Anastasia.
Then the stars of the show arrived, starting with a medley of hits before launching into songs like "The Call", "Incomplete", and "All I Have to Give" -- complete with the original choreography from the 90s music videos.
The group told the crowd that there were some rules for the show – most importantly, to act like they were 15 years old.
Tears flowed in the audience during a performance of ballad "Show Me the Meaning of Being Lonely", one of the band's biggest hits. After the song, AJ told the audience that the Backstreet Boys would not wait another 20 years to visit Israel again.
The show was sprinkled with a dose of self-deprecating humor, as the members imitated their poses on the cover of singles from the 90s.