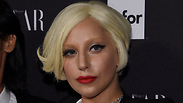 Lady Gaga says ADL's principles 'are so in line with ours'
Photo: Getty Images
We're all well aware by now of Lady Gaga's advocacy for pluralism, egalitarianism, and equal rights, launching the Born this Way Foundation to support the wellness of young people and to empower them.

The American pop sensation has also voiced her opposition to the negative light in which Israel is often painted in the media, saying no to calls of boycotts by performing in Israel last year and calling it a "beautiful" country.

Recognition

Oscar-winning actress honored for her role in acclaimed film 'Woman in Gold' and for helping to educate public about issues of Nazi-looted art.

Over the weekend, the singer posted a thank you to Jewish rights agency Anti-Defamation League, after the organization awarded her and the Born this Way Foundation with their Making a Difference award as part of their No Place for Hate initiative.

No Place for Hate is a free program offered to schools around the United States, with the goal of "creating a welcoming community committed to stopping all forms of bias and bullying."

"This is such an incredible honor," Gaga says in the video. "The No Place for Hate Making a Difference award is a huge deal for me especially because of all the hard work the ADL has been doing to fight anti-Semitism, homophobia, bigotry and intolerance for the last 100 years."

Gaga continues to talk about the young people she's met through her encounters as a pop artist who are going through "the same struggles" she encountered, like bullying and trouble understanding one's identity and "finding a place in the world."

She also said that the ADL's principles "are so in line with ours.

"Thank you so much for everything that you have been doing in the past 100 years and congrats to the millions of students in New York and across the country who have committed to taking a stand against biased and bullying through ADL's No Place for Hate program," Gaga says.

"Continue what you're doing, never stop. Passion is the most beautiful thing that there is and passion for spreading kindness, there's nothing better."

Reprinted with permission from Shalom Life .