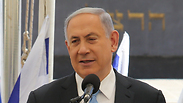 Benjamin Netanyahu. No one could get the better of him
Photo: Gil Yohanan
Netanyahu may be Erdogan, but Israel is not Turkey
Op-ed: In his delusions, the prime minister called early elections, dismissed Israel Prize judges, undermined the free press, conducted a racist election campaign, and sold out the core values of the State of Israel and Zionism in shameless coalition deals.
Turkey will go to the polls in two weeks or so from now, on June 7. The election is being viewed as a critical one: Recep Tayyip Erdogan, the former prime minister who was elected president, is hoping to see his party win a 60-percent majority in parliament.
With the support of such a majority, his party would then be able to amend Turkey's constitution and thereby grant the president far-reaching powers. Erdogan's rivals are not holding their punches. According to reports in the international press, they are accusing him of trying to create a ''constitutional dictatorship," of being powerdrunk, of megalomania and madness. Erdogan, for his part, couldn't care less; his aggressive election campaign is breaking all the game rules.
In one of his speeches in the Knesset, Zionist Union leader Isaac Herzog likened Prime Minister Benjamin Netanyahu to Erdogan. The comparison is an interesting one; it contradicts most of the things that have been said and written about Netanyahu over the years, including by yours truly.
For years, I have described Netanyahu as a talented individual with a weak character, as intelligent but susceptible to pressure. He portrays an image of strength, but lacks the substance; rhetorical skills in abundance, but nothing when it comes to decision-making. I am not the only one who has described Netanyahu as such: Yitzhak Shamir and Ariel Sharon did the same, as have most of the people who have worked with him. I'm not so sure that these descriptions hold true today.
Perhaps Netanyahu has always been stronger and more determined than we once thought and gave him credit for, or perhaps he has changed. Let's assume, merely assume, that at the beginning of the year, at some point in January or February, Netanyahu turned over a new leaf, that the depression was replaced by mania, that he woke up suddenly one morning and decided to be Erdogan.
He put all his contacts in the United States to work and decided to take a trip to address Congress. Judging by the outcome, that trip was a failure: It prevented Israel from having any sway over the terms of the nuclear deal with Iran, alienated the Democrats, and boosted Iranian influence over the region – much to the chagrin of Saudi Arabia, our ally in the struggle against Iran.
Political Farce
Op-ed: The establishment of Benjamin Netanyahu's fourth government could not have been executed in a more negligent and dishonorable fashion.
But Netanyahu was sure he was Erdogan: No one could get the better of him, not even the president of the United States. He fired ministers, called an early election, dismissed judges for the Israel Prize, undermined the free press, conducted a racist election campaign based on cynicism and lies, and sold out the core values of the State of Israel and Zionism in shameless coalition deals.
He's sweating again, Netanyahu pundits are saying. He's bowing to pressure. He's being squeezed. He's panicking.
Perhaps. But I think he's in a state of euphoria. He has shown disdain for everyone – for Obama, who he believes isn't fit to serve as president; for Tzipi Livni and Yair Lapid, who were his fig leaf in the previous government; for the civil servantswho serve him, often against their better judgment; for journalists – those who suck up to him and those who criticize him; for the Arabs, who didn't flock to the polling stations; for the voters in the periphery, who swore they would never vote Likud again but did just so on Election Day; and for the politicians and parties who joined his coalition.
He didn't capitulate at all, because he doesn't care at all about the things he gave them. All he cares about has remained in his hands – America, Iran and the media. The kids can play with everything else. Even better, let them fight among themselves over who gets to sit closer to him in the photographs. Let them shame themselves.
Like Erdogan, Netanyahu relies on widespread support at the polling stations. Like Erdogan, he is waging war against the institutions that restrict his power. Erdogan got the better of the Turkish military establishment, which had been the de facto regime in the country prior to Erdogan's rise to power.
But the courts, the business community and the free press In Turkey are still putting up a fight. This is why he wants to change the constitution. He is talking, of course, about governance. But governance is simply a laundered term. Everyone talks about governance but actually means unlimited power.
Netanyahu's behavior reminds me of curling – the winter sport in which a stone disc is sent sliding down an icy surface towards a target while team members sweep the ice ahead of the stone to adjust its speed and direction. Attorney General Yehuda Weinstein and Cabinet Secretary Avichai Mandelblit are Netanyahu's sweepers; attorneys Isaac Molho and David Shimron clean up after them.
The problem is that Netanyahu is allowing things to get out of control. The scandal over the segregated West Bank buses is a fine example. It started with the grumblings of a group of extremist settlers. They simply wanted to let off steam – and not actually change anything. Defense Minister Moshe Ya'alon, however, panicked. The army opposed the idea; but when the defense minister gives an order, the army obeys.
The first media outlet to publish a report on the plan was Ba'sheva, a website managed by the settler movement. It was only after Israel was hit by a torrent of apartheid accusations that Netanyahu intervened and forced Ya'alon to retract his decision.
Netanyahu may be strong like Erdogan, but Israel isn't Turkey. It can't always afford to do the things that other countries do.