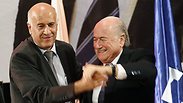 Jibril Rajuob with FIFA President Sepp Blatter
Photo: Reuters
The President of the Palestinian Football Association (PFA), Jibril Rajoub, indicated on Wednesday that he was convened to an afternoon meeting with the President of FIFA, Sepp Blatter, to discuss the conflict with the Israel Football Association (IFA).
"We have a meeting with Mr. Blatter this afternoon at 5pm" declared Rajoub, who had just finished speaking to the Confederation of African Football.
Fight for FIFA
'We leave the politics aside to play football,' say soccer players ahead of vote that could push Israel out of FIFA.
Asked whether his Israeli counterpart, Ofer Eini, President of the IFA, was also invited to the meeting, Rajoub stated that he had "no problem meeting anyone at any time."
Rajoub and Eini were invited by the President of the CAF, Issa Hayatou of Cameroun, to express themselves before the representatives of African federations, before FIFA's 65 Congress vote on Friday, regarding the Palestinian proposal asking for Israel's suspension.
Palestine, a FIFA member since 1998, wishes to exclude Israel from international competitions, especially in order to sanction, in their words, the restrictions imposed on Palestinian players' movements.
When Eini started speaking, all the representatives of the Arab countries left the hall as a sign of protest.
"I don't like that. Everyone should have stayed to listen to both sides' arguments", deplored Rajoub.
Asked about the new scandal rocking FIFA after the arrest in Zurich, on Wednesday, at the request of American authorities, of six officials accused of corruption, Rajoub declined to respond, indicating that he had come to Zurich "to put an end to the suffering of millions of football fans in the Palestinian territories.
Palestinians see Beitar as symbol of Israeli racism
Dressed in the black and yellow of Beitar Jerusalem soccer team and holding aloft banners reading "Pure Forever" and "Beitar Good For The Jews", La Familia is Israel's most notorious soccer gang, denounced by the club they purport to support.

As the Palestine Football Association (PFA) pushes ahead with a vote at FIFA this Friday calling for Israel to be suspended from world soccer's governing body, the behaviour of some Beitar Jerusalem fans is at the heart of the PFA complaint.

"Racism in Israeli football has become part of the culture," said Jibril Rajoub, chairman of the PFA, arguing the case for Israel's suspension from international team and club competitions.

Those on the other side of the argument note that Arabs, who make up 20 percent of Israel's population, have played for every team in Israel's professional soccer league with the exception of Beitar Jerusalem, and to high acclaim for the national squad.

But it is Beitar, and La Familia, that have become synonymous with Palestinian accusations of racism.

While not dismissing the problem, Israel's football association points out that racism is a scourge in soccer in many other countries, from the top flight in England, Spain and Italy to smaller clubs in Russia and Brazil.

But when it comes to Israel and the Palestinians, the debate takes on a political hue.

"You see antisemitic behaviour around the world at football matches," said Rotem Kamer, the chief executive of the Israel Football Association (IFA), calling it unfair to single out Israel.

"In the same way other football associations are fighting these phenomena, we are doing it as well."

Since its founding in 1936, Beitar has never fielded an Arab player. Beitar coach Guy Levy was criticised in Israeli media when he declared he wouldn't hire an Arab player because "it wasn't the time". The fans wouldn't accept it and it would destabilise the team's momentum, he said.

Himself a former coach of an Arab team, Bnei Sakhnin, Levy tried to explain that he was just being honest. In doing so, he appeared to expose the depth of the problem at Beitar, a six-time Israeli league champion.

Beitar's management has denounced La Familia's behaviour and distanced itself from the group. But there are still hundreds of La Familia members present at every game, and the 'anti-Arab' banners slip through.

Police have made some arrests for criminal activity, but efforts to stop racist chanting have largely failed. Searches are conducted at turnstiles before games, but as is often the case in Europe, some undesirables still get through.

The IFA deducted two points from Beitar this year because of fans' racist abuse of an Arab player from an opposing team. IFA head Kamer said this showed the association was getting tough.

But on appeal, one point was reinstated, a decision that on Monday helped Beitar capture a place in European club competitions next season.

That is the sort of action that rankles with the PFA, which has specifically cited Beitar in its complaint to FIFA.

Some Beitar Jerusalem supporters are so weary of La Familia's behaviour that they have quit the club and formed a new low-ranking team, Beitar Nordia, welcoming Arab players.

Friday's vote may be close, depending on the rules applied. The Palestinians think their proposal to suspend Israel requires a simple majority. If that is so, the vote could go their way.

However, FIFA rules say any suspension vote needs a 75 percent majority. If that holds, it is likely the Palestinian proposal will be defeated.

The PFA's bid to have Israel suspended from FIFA also cites Israeli restrictions on the movement of Palestinian players, hold ups in the delivery of equipment, and the fact five Israeli league teams are based in settlements in the occupied West Bank.

Israel's football association says it is doing what it can to resolve these problems, but that it is government that is responsible for movement and security issues.