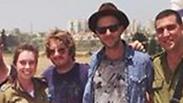 One Republic with IDF soldiers
One Republic visited an Iron Dome battery at the IDF base in Ashkelon on Wednesday, ahead of their Tel Aviv show on Thursday. They met with soldiers a mere day after a rocket fell in the area – the first since "Operation Protective Edge."

The Israeli Air Force wrote on its Facebook page that the One Republic members were amazed to hear about the battery operators' young age, and claimed they feel the "safest" in Israel.

The visit to the Iron Dome soldiers' base was part of the band's Israel tour, in which they visited Tiberias and Kibbutz Ginosar, Caesarea, and an IDF base on the Golan Heights. Sources close to the band members said they were impressed with the religious sites and claimed there was a significant gap between how Israel was presented in the news abroad and their personal impression of the Jewish state.

One Republic will perform on Thursday evening at Yarkon Park. Popular Israeli artist Harel Skaat is the opening act.