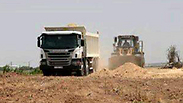 Yisrael Beytenu MK Avigdor Lieberman harshly criticized Prime Minister Benjamin Netanyahu and Defense Minister Moshe Ya'alon on Saturday following news of a new dirt road being paved by Hamas along the border fence.

Former Hamas interior minister Fathi Hamad declared publicly on Friday that the road was being prepared for a "window of opportunity to attack" – a statement Lieberman defined as "blaring a bullhorn at a prime minister who insists on remaining deaf."


Lieberman accused the government of burying its head in the sand, "and if the catastrophe that is written on the wall occurs – the prime minister and defense minister will be unable to deny responsibility."

The former foreign minister added that "the prime minister should come to his senses now and do what is required to overthrow the Hamas regime in Gaza. Real leadership should know how to deal with threats before disaster strikes and not when it's already too late."

The road's existence was first reported on Ynet earlier this week.

The construction work, which has been documented by different sources inside the Strip, is being secured by armed uniformed men. It is unclear whether these men belong to the Gaza security forces under Hamas authority, or to the organization's military wing, the Izz ad-Din al-Qassam Brigade.

Fathi Hamad's statements on Friday were the first comments made by a Hamas official about the mysterious road that is being paved under tight security. According to the former interior minister, the road will be paved adjacent to the border, some 250-300 meters from the fence.

Security experts were split on why the new road is being paved. Some claim that Hamas' armed wing was trying to challenge Israel and set a new reality on the ground in this sensitive area.

Others claimed these are works being done as part of a silent understanding between Hamas and Israel that the new road can strengthen the Hamas security forces' control over errant Palestinian factions trying to launch rockets at Israel from near the border, as well as cut the number of Palestinians trying to illegally cross into Israel to find work.