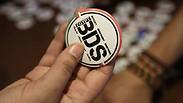 BDS badge in Egypt. A blatant lie rooted in Goebbels' school
Photo: AP
Joseph Goebbels, the Third Reich's minister of propaganda, was undoubtedly more dangerous to the world and to the Jews than the Führer Adolf Hitler. The reason is that Goebbels knew how to spread lies which would be accepted as facts and how to convince the majority of the Germans of the necessity of their criminal acts in favor of the future of the "thousand-year old Reich."

There is no doubt that Israel's enemies have studied Goebbels' doctrine very well. For decades, they have been spreading lies about the Jewish state and about its allegedly criminal acts, and have slowly managed to convince quite a few Westerners, who in most cases aren't even aware of the facts.

FIFA Affair

Op-ed: When it comes to boycott threats, Israel's problem is not the Palestinians, but many of Israel's friends in the West. From one vote to another, it is becoming increasingly difficult for them – both morally and politically – to defend the Israeli policy in the West Bank.

Unfortunately, Israel failed to realize on time the extent of damage caused by this false propaganda to the state and to its interests, and missed the opportunity to respond aggressively and thwart many attacks. In fact, to this very day Israel's governments have failed to introduce a clear and efficient plan to ward off initiatives by organizations like BDS, which has been active on campuses in the United States and in other Western countries for a long time now.

Now the Palestinians and their supporters believe they have found a new front, more important and more popular than a boycott on products from Israel – sports. "Let's make sure that Israel is expelled from the different unions and from the Olympic Committee," Jibril Rajoub told his people and partners in the struggle. But the first attempt to harm Israel through a suspension from FIFA failed, and Rajoub was forced to drop his proposal and return to Ramallah with his tail between his legs.

Despite this achievement, Israel must finally move to an organized and coordinated counterattack and try to convince the world that the Palestinians' arguments on most issues, if not on all, are nothing but a blatant lie rooted in Goebbels' school. Because despite the defeat, there is no doubt that FIFA was just the first attempt, and it's time for Israel to wake up and stop letting its enemies win on the propaganda front.