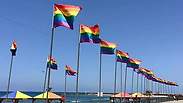 Hilton Beach in Tel Aviv
Photo: Shaked Cohen
Tel Aviv's Gay Pride Week will begin on Sunday and culminate in the Pride Parade on Friday, which focuses this year on the transgender community.

In preparation for the Gay Pride Week, Tel Aviv changed its colors, flying the rainbow flag in almost every main street in the city in an unprecedented number of flags.

Here's a taste of the most colorful days a year in the White City.