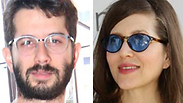 Actors Ran Danker (L) and Keren Mor. Among petition's signatories
Photo: Rafi Deloya, Anat Mosberg
Tensions mount between artists and Ministers Bennett, Regev
Dozens of Israeli actors, filmmakers, writers, musicians and choreographers sign petition to protest the 'undemocratic steps taken by the Culture and Education ministries against artists and cultural figures' and vow to 'continue expressing our opinion and obeying our conscience.' Minister Regev responds: There is no silencing, there is democracy.
A large group of Israeli artists held an emergency meeting on Sunday afternoon at Jaffa's port to discuss recent controversial decisions and statements made by Culture Minister Miri Regev and Education Minister Naftali Bennett.
A heated debate erupted when Ortal Tamam, the niece of slain IDF soldier Moshe Tamam, took the stage and spoke about "A Parallel Time," a play based on the story of a Palestinian prisoner convicted of murdering her uncle. A week ago, Bennett decided to stop state funding to the play.
She said the play humanized her uncle's killer, and was the final blow for her family. Her words were met by heckling, and Tamam eventually left the stage in tears.
Actor Moshe Ivgy partly supported Tamam's point of view. "If there is something that endangers the state and hurts the principles of democracy, it shouldn't be funded by the state, I agree with you," he said during the meeting. "But that's where it ends. The state should not be and it is not its place to be, a commissar, and should not intervene in culture, on a fundamental level."
"Our great fear is that they (Regev and Bennett) are trying to shut us up and limit the freedom of speech, and turn us into the government's lackeys. We're not like that," Ivgy told Ynet.
'The Black List'
Dozens of artists have joined a petition against the two ministers.

The petition, titled "The Black List," states: "We, female and male artists – filmmakers, writers, actors, musicians, choreographers and dancers, directors, scriptwriters, producers and cultural figures – are protesting the undemocratic steps taken in recent weeks by the Culture and Education ministries against artists and cultural figures whose work or views don't match the spirit of these ministries. We would like to tell you that we will continue facing reality, expressing our opinion and obeying our conscience, even if you claim a price from us for it."

Freedom of Expression?

Op-ed: Oddly enough, people who use artistic freedom to harm the state think that Israel's citizens should pay for their hateful words against the state.

Culture Minister Regev told Ynet in response to the petition: "I suggest that everyone calm down. There is nothing to fear. There is no silencing, there is democracy. My intention is to allow everyone to exercise their freedom of expression. The artists have no reason to panic. We succeeded against FIFA and Orange, and there is no reason for domestic boycotts.

"I'm not going to do anything to the artists," she added. "Whoever wants to talk to me can talk to me – and not through petitions. Love of the land is not a bad word. There hasn't been a single anti-democratic decision yet. what's the problem? I haven't made any threats. People can be tolerant towards my opinion too. They may be prejudice against me, but their panic is unnecessary. I promise them that they have an excellent partner."

The petition's signatories – including actors Gila Almagor, Moni Moshonov, Ran Danker and Keren Mor and dancer and choreographer Ohad Naharin – added in the document that they were not afraid to voice their opinions.

"Despite the direct threat to our livelihood, we shall not censor and shall not sterilize our work because of terrorizing laws, intimidations and threats. We shall not hide and shall not keep a low profile. We shall not keep quiet while you deteriorate the Israeli culture to an abyss there is no return from. We, the undersigned, are those you are seeking to silence, and when you decide to collect names for a 'black list,' it's right here before you," they wrote.

Moni Moshonov told Ynet that he had signed the petition in order to "explain the consequences and dangers of radical statements about culture and the freedom of opinion and expression."

The artists' protests follows Regev's statement that she will fight artists who harm the State of Israel's reputation in their work and her confrontation with Israeli Arab actor Norman Issa over his refusal to perform in the Jordan Valley and her threat to cut state funding to his Arab-Jewish children's theater in Jaffa.

Last week, Education Minister Bennett announced that Israeli schools would no longer take their students to see "A Parallel Time" , despite the Culture Basket Committee's decision to approve the play.

The Culture Basket Committee convened for an urgent meeting on Saturday evening to respond to Bennett's decision to remove from the national culture basket.

In a statement issued at the end of the meeting, the committee members said that they "reject the education minister's questioning of the committee's professionalism and morality and of its members' loyalty to the state." They also protested Bennett's attempt to turn them into "his decisions' rubber stamp."

"In the meantime, we are declaring our stand," Committee Chairwoman Dr. Bilha Blum said, "We have yet to decide whether we will stop working with the minister."