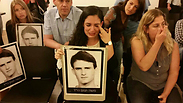 Israeli schools will no longer take their students to see a play based on the story of a Palestinian prisoner convicted of murdering an IDF soldier, Education Minister Naftali Bennett decided Tuesday.
The play "A Parallel Time" of the Al Midan theater in Haifa, was written by Bashar Murkus and is based on a story of Walid Daka, convicted of planning the murder of soldier Moshe Tamam late in 1984.
The play was shown on Palestinian Prisoners' Day, which was marked on April 25, sparking the anger of the soldier's family.
The Taman family in turn attended a meeting of the Haifa City Council, where the council decided to establish a special committee to investigate the matter and to freeze funding to the theater until a final decision was made. Municipal support for the theater is estimated at about NIS 1 million a year.
A selection committee entrusted with choosing the cultural content students will be exposed to as part of the "national culture basket," decided not to disqualify the play. Committee members argued that the play didn't contain anything offensive or inciting, despite protests from the bereaved families.
Last week, Bennett ordered the committee to reconsider their decision and remove the play from the list of cultural programs.
"I want to be blunt: Israeli citizens will not fund out of their own pockets plays that are tolerant of soldiers' murderers," Bennett said.
"Moreover, a committee which approves a play that makes a hero out of a murderer, is a committee whose morality needs investigation. I am the Minister of Education and a play that shows tolerance to the murder of soldiers that protect me is not education."
The theater's program describes the play as such: "In prison, a place where time and space are frozen, where the main war is the war on memory and time, Wadia, a Palestinian security prisoner in an Israeli prison, plans to build a musical instrument - an oud. He does this flanked by a group of prisoners in on the secret. He wants to play the oud at his jail wedding to his beloved Feida.
"Both are fighting the Israeli establishment and the courts to obtain permission for their wedding. Through their story we encounter the world of other security prisoners. The play is an attempt to discover the man behind the prisoner, and not the cliché that turns him into a symbol and a statistic, which leads one to forget that he is a person with a life story, desires and dreams."
Daka, a native of Baqa al-Gharbiyye, was found guilty of kidnapping and murdering soldier Moshe Tamam and was sentenced in 1987 to life in prison. He denied involvement in the act, and has since filed several requests to reduce his sentence, declaring that he had a change of heart during his imprisonment and that he now calls for peace and coexistence.
The Tamam family welcomed Bennett's decision and called to stop funding the Al-Midan theater. "We commend the Minister of Education for taking the moral and necessary step by pulling the show from the national culture basket.
"We call on the Culture and Sport Minister Miri Regev to immediately stop financing the theater, which shows a play inspired by a vile murderer, written by those who see him as a hero and which treats him as a sympathetic character."
Adnan Tarbasha, Midan Theater's manager, told Ynet that "This is a political statement. I think Minister Bennett is mistaken. I would have expected from a minister who is meant to represent everyone to examine things thoroughly and see the play.
"After seeing it he would be able to say, 'This play is inappropriate and I am dropping it', or the opposite, but he should watch the play."
Tarabsha added that "due to Haifa Municipality's decision to freeze its support, I cannot pay employees' salaries. It hurts me that people who work for culture for all ages, regardless of color, religion, race and nationality, can't make a living."