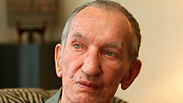 Jan Karski. An eyewitness to the destruction of Polish Jewry
Photo: AP
The film "Karski and the Lords of Humanity" was screened for the first time outside Poland this week at Jerusalem's Menachem Begin Heritage Center.

The event was sponsored by the Israel Council on Foreign Relations, which operates under the auspices of the World Jewish Congress (WJC), and the Polish Institute in Tel Aviv.

Courageous Act

ADL Jan Karski Courage to Care Award posthumously presented to Nikita and Sofia Lukyanovich and their daughter Svetlana, who sheltered and hid young Alla Grabshtein from the Nazis, thereby saving her life.

More than 300 guests, including Poland's Foreign Minister Grzegorz Schetyna and the WJC leadership, which is holding a meeting of its Steering Committee in the Israeli capital this week, attended the screening Sunday night.

WJC President Ronald S. Lauder told them, "Just as Jan Karski sought to draw attention to the horrifying plight of the Jews in German-occupied Poland, so do I now feel compelled to highlight the precarious situation of our Christian brothers and sisters. Karski is my hero because he spoke up when most people remained silent. We Jews know what happens when the world is silent."

Lauder added that "there could be no more fitting way to mark the 25th anniversary of the resumption of diplomatic relations between Israel and Poland."

The Polish foreign minister said, "This is a must-see film for government officials in every country because passivity can lead to horror."

The film's director, Sławomir Grünberg, was present for the screening, as were the producers. Grünberg noted, "Karski's dream was to become a diplomat. That dream was dashed by the war. Today, however, through this film, his message of compassion in diplomacy is being spread and his dream has, in effect, come true."

Jan Karski (1914–2001), the heroic courier of the Polish underground state, was an eyewitness to the destruction of Polish Jewry and was among the first to personally bring detailed information to the attention of to Anglo-American leaders, including President Franklin D. Roosevelt.

He wrote one of the first books about Nazi atrocities, and after the war he taught two generations of students at Georgetown University in Washington, DC.