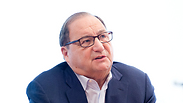 ADL National Director Abraham Foxman. 'This story is so close to my heart'
Photo: Amitai Roderman
The Lukyanovich family of Belarus, who at great personal risk helped to hide and protect a Jewish child during the Holocaust, has been honored with the Anti-Defamation League's ADL Jan Karski Courage to Care Award.

Established in 1987 to honor rescuers of Jews during the Holocaust era, the award was posthumously presented last week to Nikita and Sofia Lukyanovich and their daughter, Svetlana, who sheltered and hid young Alla Grabshtein from the Nazis, thereby saving her life.

Preserving Memory

Memorial to be built in heart of former Warsaw Ghetto and next to Museum of History of Polish Jews. Project's critics believe it is inappropriate to put a monument glorifying Poles at such a key site of Jewish tragedy.

Vadim Zhagiro, the son of Svetlana and grandson of Nikita and Sofia, accepted the award on behalf of his family before an audience of more than 300 Jewish community leaders gathered from across the country for ADL's National Executive Committee Meeting in Palm Beach, Florida.

"You may say that the Lukyanovich family only hid one child, but if every family in the area saved one child, thousands more could have been saved," ADL National Director Abraham H. Foxman, a Holocaust survivor, said while presenting the award. "The Lukyanovich family took a great risk, knowing what the consequences of their actions would be."

The Lukyanoviches were a non-Jewish family living in Minsk. A Jewish family, the Grabshteins, lived nearby. In 1942, after Grabshtein was drafted into the Soviet Army, his wife and daughters were forced to move into the Minsk Ghetto.

While living in the ghetto, their eldest daughter was murdered in a mass killing. In an attempt to save their daughter from suffering a similar fate, Alla was taken by her mother to live with the Verbitsky family. A few months later, the Verbitskys turned to their neighbors, Sofia and Nikita Lukyanovich, who agreed to take and hide Alla in their home.

The ADL Jan Karski Courage to Care Award was established to honor those like Nikita, Sofia and Svetlana Lukyanovich, who dared to defy the Nazi machine to save Jewish lives.

"This story is so close to my heart," said Foxman. "I, too, was a child who by the grace of God survived thanks to a brave and decent Catholic woman who was my nanny. I know firsthand how essential it was to have the help of just one person, who at a moment of moral collapse did not forget the essential principle of leading a moral life: do unto others, as you would have others do unto you."

In accepting the award, Mr. Zhargiro said his family was fully cognizant of the risks and rewards of saving a life. "Saving Alla Grabshtein during the Holocaust was not the only manifestation of their courage, strength of character, and commitment to the highest human values, but it was the most important.

"Saving someone else's life, at the risk, and sometimes at the cost of one's own, is the highest manifestation of courage and humanity. Thank you, ADL, for your recognition. Recognition reinforces our belief in ourselves, our belief that kindness and love for people are not empty gestures or words."

The Courage to Care Award is named in honor of one of its first recipients, Jan Karski, a Polish diplomat and righteous gentile who provided the West with one of the first eyewitness accounts of Hitler's Final Solution.

The award is a plaque with bas-reliefs that depict the horrifying context – the Nazis' persecution, deportation and murder of millions of Jews – that served as a backdrop for the rescuers' exceptional deeds. It is made possible through a generous grant from Eileen Ludwig-Greenland.