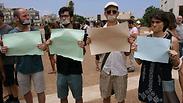 Demonstrators protesting Miri Regev's decision to defund Al-Maidan theater
Photo: Ido Erez
In light of Culture Minister Miri Regev's decision to freeze Al-Midan theater's funding after it staged a play about the life of terrorist Walid Daka, an emergency meeting at the Haifa theater decided to turn to the European Union for funding instead.
Dozens of artists and Arab MKs attended the meeting. Jaafar Farah, director of the Musawa Center for Arab Citizens' Rights in Israel, promised to raise the issue at the European Parliament next week, but participants noted that in any case, referral to the European Union will not constitute a renunciation of the government funding the theater is entitled to.
Controversial Minister
Op-ed: The culture minister fervently shoots the right words to the headlines from every possible weapon; there will always be someone who will react to her comments, and she eagerly storms the responder and the response.
The play "A Parallel Time" was written by Bashar Murkus and is based on the life story of Walid Daka, who was convicted of planning the murder of soldier Moshe Tamam late in 1984. The play was staged on the Palestinian Prisoners' Day, marked on April 25, sparking the anger of the soldier's family.
Regev also instructed the examination of the theater's financial dealings following claims that it has ties to terrorist groups.
MK Ahmad Tibi, who spoke at the meeting, protested the fact that Arabic artists are referred to as enemies.
"A new minister comes along and says: 'I decide everything'," he said. "'I decide content, I decide who to fund and regarding Arab artists, I will decide what is and is not allowed'. There must not be a censorship czar nor an editor in chief. Regev acts towards Arab artists as Israeli policemen act towards the Arab protester - as an enemy that must be eliminated. I think this is primitive behavior. I suggest Regev keeps her mouth closed."
Bashar Murkus, the playwright, thanked the artists who came to the meeting.
"We all have the right to say yes or no, but there is no right to to defund a theater because of questions it wants to ask," he said.