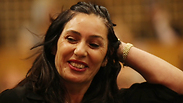 Culture Minister Miri Regev. Laughing at the entire world
Photo: Motti Kimchi
Two words have been embedded in the consciousness of millions of Israelis recently: Miri Regev, Miri Regev and again Miri Regev. Compared to her, who is the immigrant absorption minister, the housing minister, or even the finance minister?

I'm guessing that she is now sitting in her house in Rosh Ha'ayin or in her office in Tel Aviv (has she moved to Jerusalem yet? Probably not, otherwise the whole world would have heard and known about it) and laughing at the entire world. They are all nothing compared to her, a pawn in her hands.

Cultural War

Op-ed: Would the Culture Ministry cancel a theater's funding because its manager is an 'ardent Zionist' who refuses to perform in front of Israeli emigrants?

From a position which is probably the least important in the government, Regev is making newspaper headlines, opening news editions on the radio and on television and has more presence on the small screen than the defense and finance ministers together. A lot of noise and commotion in the land of dwarfs. Are the rebels in Syria approaching Israel's border? Does US President Barack Obama want to tear Prime Minister Benjamin Netanyahu's head off like a fish? Miri Regev, Miri Regev, Miri Regev.

Regev may have been a media personality in the past, but she is first and foremost a politician. That's what made her the IDF's spokesperson and chief censor. She pursued senior positions, had ambitions, fought and conquered her targets. That's also how she reached the current position of culture minister, and it's safe to assume that she will be nominated for other senior positions.

Despite her sensitivity when it comes to respect, she has no problem with any title and any job. She knows how to make lemonade from lemons. If other people don't like it, that's their problem. As a politician aspiring to move forward, she has reached the most appropriate niche to start from as far as she is concerned.

Regev gave up about half of the State's electorate a long time ago. She knows they won't vote for her even if she sings "The Internationale" left-wing anthem and the Zionist Labor Movement's "Techezakna" anthem all day long, every day. Like a skilled alley cat, she adapts herself to her target audience. She will shout "applause," she will wave the flag of Israel, she will climb loudly on the hated "beasts" from the Left, as long as the name Miri Regev is engraved in people's consciousness.

As a politician, she knows that she must get elected in the Likud primary elections, and as a politician she also knows that the tens of thousands of voters will always mark the famous ones. Miri Regev will always be favored over Yohai Asulin from the Likud's Karkur Illit branch, who no one has heard of. A high spot on the list, the fifth spot today, will already bring her to the right places.

It's not by chance that she was asked at the time to head a new department at the IDF Spokesperson's Unit: Initiative. The idea was to offer journalists initiated and desirable articles about the army and the defense establishment, while avoiding criticism. Miri Regev fit like a glove for that position.

Now she is mainly initiating words in politics, and fervently shooting the right words to the headlines from every possible weapon. There will always be someone who will respond to her comments, and she eagerly storms the responder and the response. From one headline to another, she grows stronger.

Almost the only person who can cut off her head is Benjamin Netanyahu, who at some stage, maybe already now, won't be pleased with this conquering of headlines. I am told that Sara Netanyahu will be even less pleased. Until then, Miri Regev is throwing her fishing rod into the moldy water, and the fish are getting caught on the hook.

P.S. Oops, I've been caught too. I wrote her name here once and twice and three times. That's exactly what she wants.