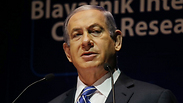 Photo: Motti Kimchi
Photo: Motti Kimchi
Prime Minister Benjamin Netanyahu addressed rising tensions in Israel's northern Druze communities Tuesday morning at an international cyber conference, saying that authorities wound capture those responsible for a Druze lynch mob that attacked an IDF ambulance on Monday night, wounding two soldiers and killing a Syrian rebel who was enroute to a hospital.

"We are a State of laws," said Netanyahu. "We are not part of the anarchy that's spreading around us. We won't let anyone take the law into their hands; we won't let anyone interfere in the missions of IDF soldiers."

One of the soldiers who was wounded in the incident saw an improvement in his medical condition overnight and was expected to be released from Rambam hospital on Tuesday. The wounded Syrian who survived the attack with serious wounds was considered stable after an operation late Monday night.

"I call on the leaders of the Druze community, which is a magnificent community with which we have brotherhood, I call on them to calm things down and say to every Druze citizen in Israel, respect the law, respect the soldiers, do not take the law into their own hands - this is what I ask our fellow Druze; this is what I ask from every citizen in the State of Israel," said Netanyahu.

Members of the Druze community however, threatened Tuesday morning that they would continue preventing ambulances transporting wounded Syrian rebels to Israeli hospitals.

The Druze claim that Israel is caring for rebels from the al-Qaeda affiliated Nusra Front group, which recently killed some 20 ethic Druze in Syria. Many of Israel's Druze have family and friends across the Golan border and have been calling on Israel to provide them humanitarian and even military aid over the last few weeks.

One Druze resident in the Golan Heights told Ynet, "The incident yesterday happened because of the anger about the murder of our Druze brothers in Syria and the help that Israel is giving to the Nusra Front who are behind the murder of our family members. We, the Syrian Druze, hope for peace and don't want problems but when we are attacked we one sit in silence."