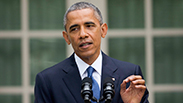 President Barack Obama. Succeeded in restoring America's position as a beacon to the world
Photo: AP
Shortly after the Supreme Court of the United States ruled that all US states must allow same-sex marriage, President Barack Obama flew to South Carolina to participate in the funeral of Rev. Clementa Pinckney, who was among nine black people shot dead in a church in Charleston.

During his eulogy, he suddenly paused, took a deep breath and began singing the remarkable Christian hymn "Amazing Grace."

The words of the song took on a special meaning: Obama was singing not only for the victims, but also for millions of Americans who – thanks to his support – received rights they couldn't even dream of a decade ago.

Nuclear Deal

Analysis: Those relying on Iran deal being thwarted by US Congress are in for a disappointment, unless final agreement is much worse than draft proposed in Lausanne – and in such a case, American president himself may be unwilling to approve it.

Upon his election, Obama injected a new spirit into America and promised change: Last week, he kept his word. With the president's support, two historic decisions were made by the Supreme Court. The first was the approval of a problematic clause in the health reform, the apple of the president's eye, which will now become statutory and guarantee the reform's survival – to the resentment of his Republican rivals.

Then on Friday came the second ruling, which obligates all 50 US states to permit same-sex marriage. In the past few years Obama has been clearly promoting the issue and has contributed to the conscious change in the public opinion, whose support for LGBT rights only grew stronger.

It was a very successful week for Obama, which will help him establish his legacy: Through his two achievements in the issues of health and LGBT rights, he managed to restore America's position as a beacon to the world in terms of freedom of the individual. People who couldn't afford a visit to the doctor so far now see it as their civil right. And people who couldn't get married will now be able to celebrate their marriage on the stairs of the City Council.

And if that were not enough, Obama recorded two other achievements recently: He succeeded in uniting the split Congress in order to pass free trade agreements with the Pacific countries. In addition, on the background of the tragedy in South Carolina, he demonstrated charismatic leadership which united the people and reignited a public debate on the need to supervise arms seals and on the institutionalized racism which refuses to disappear.

Only several weeks ago, Obama's critics still defined him as a "lame duck" and accused him of being naïve. But like Sisyphus, he continued to patiently push the rock up the mountain – and last week he reached the top.

Hillary Clinton will get to reap the fruits of his labor too: The same-sex marriage is expected to become a main issue in the presidential election, and Clinton is on the winning side, where most American voters are located.

And here comes the next challenge: Armed with public support and encouraged by his recent achievements, Obama will try to secure his foreign policy and reach a historic agreement with Iran on the nuclear issue. Following his achievements at the Supreme Court, his rivals will find it difficult to come out strongly against him.

The past weekend's constitutional revolutions, which Obama can take full credit for, will affect America's future. Last week, Obama basically regained control and began setting the tone for anything taking place in Washington. Now that his octaves are high, we can only hope that Tehran will listen to him too.