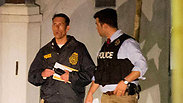 Police forces at the scene
Photo: AP
CHARLESTON - A gunman opened fire on Wednesday evening at a historic African-American church in downtown Charleston, South Carolina, and was still at large, a US police official said, with reports of at least nine fatalities.

The suspect was described as a 21-year-old white man wearing a sweatshirt, jeans and boots, Charleston police said in a message on Twitter.

Charleston Police Department spokesman Charles Francis said the shooting occurred at the Emanuel AME Church around 9 pm local time (1 am GMT).

A bomb threat was later reported near the scene of the church shooting, Charleston County Sheriff's Office spokesman Eric Watson said. People who were gathered in the area were told by police to move back.

A police chaplain was present at the scene of the shooting, and a helicopter with a searchlight hovered overhead as officers combed through the area.

A group of several men stood in a circle in front of a hotel near the church. "We pray for the families, they've got a long road ahead of them," Reverend James Johnson, a local civil rights activist, said during the impromptu prayer service.

Police took a man with a backpack and a camera into custody, but later said they were still searching for a suspect in the shooting, television station WCIV reported.

Local broadcaster WCSC reported the FBI was on the scene. The FBI could not be reached immediately for comment.

The website for the church said it has one of the largest and oldest black congregations in the region. It was built in 1891 and is considered a historically significant building, according to the National Park Service.

The church is led by the Reverend Clementa Pinckney, who also serves in the state senate, according to the church's website.