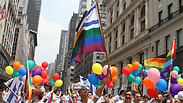 'God created Adam and Eve, not Adam and Steve' (archives)
Photo: Liran Gilboa
Orthodox Jews protesting the gay pride parade in New York City on Sunday were forced to hire Mexican laborers for reinforcement, after rabbis forbade yeshiva students to take part in the demonstration for fear of being exposed to "immorality."

Two days after the Supreme Court of the United States delivered a dramatic ruling on same-sex marriage, homosexuals and lesbians participated in the traditional parade on Fifth Avenue in Manhattan, where they were met by the haredi and Mexicans demonstrators.

Disturbing Comparison

Grand Rabbi Mayer Alter Horowitz, leader of Boston Hasidic dynasty's Har Nof branch, says religious homosexuals have two options: To suppress their sexual desires or marry a woman.

The protestors, who are affiliated with the Jewish Political Action Committee (JPAC), carried signs reading, "God created Adam and Eve, not Adam and Steve" and "Judaism prohibits homosexuality."

The combined force gathered behind the security fences separating between the parade-goers and the crowd, between Fifth Avenue and 15th Street, some wearing prayer garments. According to the New York Times, parade-goers threw open water bottles at the protesters and kissed defiantly in front of them.

The surprising decision to use hired protestors was explained by one of the demonstration's organizers, Heshie Freed, who said they were filling in for the Jewish students who would normally be called upon to demonstrate.

"The rabbis said that the yeshiva boys shouldn't come out for this because of what they would see at the parade," he told the NY Times.

The protestors were guarded by security forces fearing a flare-up, which indeed arrived. Late in the afternoon, the NY Times reported, a fight broke out. Bystanders said the gates separating the Jewish group opened and parade-goers swarmed in.

"It's been a lot of confrontation," Freed said. "Whenever you have emotions, you have a situation."

One of the parade-goers, 19-year-old Jasmine Brob, said she punched a haredi man from the JPAC in the eye after he had swung at her friend. The man, whose skin around his eye was red with a small cut, held his sign high, and the group left shortly after, the NY Times reported.

This wasn't the first time Hasidic groups protest gay rights. In 2011, after same-sex marriage was approved by the New York legislature in 2011, the JPAC posted signs claiming that pedophilia had skyrocketed as a result.

Organizations monitoring anti-LGBT activity in the US seem unfazed by the group, however. The Heeb website noted that "fortunately, the JPAC operates as part of the extreme minority of Jews who are against same-sex marriage."