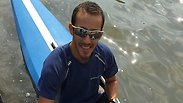 Ron Halevi, disabled veteran, now competes worldwide
There are healthy and able-bodied people who will always complain about how hard it is for them, and will succumb to their pain and weaknesses. And then there are those who were born fighters and will remain such their whole lives, regardless of what happens to them. One of these is Ron Halevi, 21, from Kibbutz Gesher in the north.

Ron began rowing kayaks on the Sea of Galilee near his kibbutz by the age of 13. He rowed two hours every day and worked hard, even though he never considered making a career out it. He just saw it as a hobby and a way to stay fit.

Israeli Champion

Avinoam Porat, Avraham Tshuva

Moran Samuel of Tel Aviv beats reigning Norwegian world champion Birgit Skarstein at 2015 World Rowing Cup in Varese, Italy. Her next target: Rio 2016 Paralympic Games.

"I won several medals, but it was really nothing serious," he said. Like many young people, when he enlisted he gave up his athletic activity in order to serve as a combat soldier. He served in the armored corps, passed a tank commanders' course, reached the rank of sergeant and during Operation Protective Edge he served as an officer in the combat support unit.

In Operation Protective Edge he participated in the fighting in the Gaza Strip and was seriously wounded by a mortar. "We had finished an operation near Khan Yunis, we crossed the border and were already in Israeli territory," he recalls. "Armored personnel carriers came to pick us up, and just then mortars were shot at us. One of them hit a carrier and the shrapnel flew towards our forces."

Five of his comrades were killed: Omri Tal, Shay Kushnir, Noam Rosenthal, Daniel Marash and Liran Adir (Edry). Ron and nine other soldiers were wounded. He suffered from shrapnel in his leg, was transported by helicopter to Tel Hashomer Hospital, and there he was given the bad news: "The doctors explained to me that it would be impossible to save his leg and so they cut it at the knee", he recounted.

Despite the loss of his leg, he did not break dow, but underwent rehabilitation and received a prosthesis. "Only months after my injury I was already walking," he says. He received encouragement from the many other who lost legs who came to visit him.

"They proved to me that even if one is left without a leg, it's not the end of the world. I quickly understood that life goes on," he says. A part of his rehabilitation took place in Beit Halochem in Haifa.

Indeed, only six months after being wounded, and after receiving a prosthesis suitable for water, Ron decided to return to kayaking. Since then, he devotes two and a half hours a day to rowing.

In contrast to when he was young, he is now trying to win medals, and this August he will participate in the Paracanoe World Championships for kayaking in the 200-meter heat. The championship will take place in Milan, and Ron believes that he will make a strong showing.

"I don't occupy myself with my disability on a daily basis. I live a totally normal life. I do almost everything," he said. He said that once in a while he is invited to tell his story to students at school.