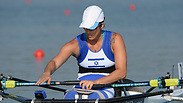 Moran Samuel in action
Photo: Detlev Seyb
Israeli paralympic rower Moran Samuel of Tel Aviv won a gold medal Saturday at the 2015 World Rowing Cup in Varese, Italy. "This is another step towards the Rio Olympic Games," she said.

Until the age of 26, Samuel had been a professional basketball player and a member of the Israeli team. One day, she woke up feeling an injury in her spine, and the lower part of her body was paralyzed.

Samuel refused to bid farewell to the world of sports and began practicing at the Daniel Rowing Center on the banks of Tel Aviv's Yarkon River. She soon became a professional rower, but did not give up on her first love and still participates in basketball competitions.

Although she has only been competing in paralympic rowing competitions for five years, she has made a lot of progress and was ranked fifth in the London 2012 Paralympic Games.

Birgit Skarstein of Norway has been the reigning world champion in paralympic rowing for the past few years, but in Saturday's race it was Samuel who came in first out of the six rowers.

"The speed was good and I put in a lot of effort due to the crosswind and waves," Samuel recalled after the competition. "I'm satisfied with the result." The Israeli champion crossed the 1,000 meters with an excellent time of 5:15.77.

Now there is no doubt that Samuel and her Italian coach, Paula Grizati, have their sights set on the Rio 2016 Paralympic Games. "Today I'm celebrating and tomorrow I'll already be thinking about my next target," Samuel concluded.