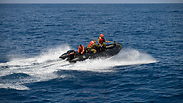 Navy exercise
Photo: IDF Spokesman Office
The less-than-idyllic vistas of the Middle Eastern shores has been part of the operational routine of the outgoing commander of the Navy's Missile Boats Flotilla (Shayetet 3), Col. Eyal Harel, and his fighters, over the past three years.

After nine years as a commander at sea, Harel has turned into one of the few officers in the IDF who got to see how the Middle East changes up close. Over the past few years, he took part in covert and distant operations, which until the revolutions in Tunisia and Egypt were the exclusive job of his flotilla's younger and more prestigious sister, Shayetet 13.

"Today, while going through the Suez Canal with a ship, we have to think about more than one thing. There are a lot of foreign fleets wandering around there, and every wrong move in long-distance mission could be misinterpreted and lead to escalation," he tells Ynet.

Interview with Col. Eyal Harel (צילום: חטיבת דובר צה"ל)

"The scope of our operational activities has gone up dozens of percents, even though the amount of troops dropped when the missile boats INS Nitzachon and INS Atzmaut were decommissioned," he says.

"And we've yet to talk about another mission we now have: Protecting Israel's commercial waters, a large area at sea which is 12 times the size of Israel and is under threat by (Hezbollah leader) Nasrallah who has one of the most advanced anti-ship cruise missile - Yakhont (P-800 Oniks)," he continues.

Harel is cautious not to say too much about the dozens of operations viewed by Israel as the "battle between the wars" - its efforts to stop enemies like Iran, Syria, Hezbollah and Hamas from growing stronger - over which he commanded during the past two years far out at sea, hundreds and thousands of kilometers from Israeli shores.

It is definitely surprising that such sensitive and long-distance missions are assigned to large and conspicuous IDF boats that are not hard to identify from afar, which are so much unlike the unseen submarines or the commandos who quietly raid a target.


"We got 1,600 mile from Israel with two missile boats in an operation to thwart the Klos C arms ship from Iran without anyone seeing us, and we didn't come down from the sky," Harel says. "This is the art of secrecy, an organized maneuver of operating the troops covertly, without having any of our actions alerting the other side. And yet, we still succeeded in getting to Klos C, while it was surrounded by dozens of other merchant boats looking just as innocent as it did."

He defends the decision to reveal the operation to the media while his fighters were still in hostile waters. "It wasn't irresponsible, but the right action, operationally. We did not put the soldiers at risk by releasing it to the media – it was the complete opposite of that."

A senior Navy commander like Harel knows well how many weapons-laden ships from Sudan or Lebanon are currently making their way to arm Hezbollah or Hamas, but at times, even after launching an operation, he too remains in the dark.

"There is high importance to secrecy and there are operations that in the best case scenario, only I know the details, and it doesn't matter if this is a mission to disrupt, thwart or gather intelligence," he says. "When you look at the axis of evil - which includes Hamas, Hezbollah and Iran - their main way to transport weapons is through the sea."

"The other side is in a race against time to arm itself and grow stronger ahead of the next round of fighting," he adds.

The Air Force and the Navy are entrusted with most of the missions conducted far away from Israel's borders, and in recent years more and more of these missions have been given to the Navy.

Harel is aware of that fact, saying "I see the Air Force training and they are doing an amazing job, but only the Navy can find a needle in a haystack."
'Yakhont - a deadly threat'
This needle can be prickly, thick and particularly deadly, with a Russian touch and the kind of accuracy that can paralyze Israel's beaches and ports on the Mediterranean Sea and blow up its natural gas drilling rafts. This needle is the Yakhont (P-800 Oniks) - an advanced anti-ship cruise missile system that Russia sold Syria and, the IDF believes, is also in Hezbollah hands.

According to foreign reports, the IDF has attacked shipments of Yakhont missiles on Lebanese soil over the past two years. Regardless, Harel says, the Navy is equipped to deal with such a threat.

"We introduced the new Adir radar system, which provides wide-scope coverage and detection, and soon we will introduce the Barak 8 surface-to-air missiles that will improve our defense capabilities, like a naval Iron Dome," he says.

"Even now we can already deal with the Yakhont with the tools at our disposal. But we should take the Yakhont very seriously; it's not a toothless threat. If this thing is launched and hits - that would be bad."

The Navy has already started preparing for surprise naval threats in light of attempts by Syrian rebels to take over Bashar Assad's last stronghold - the coastal area which includes the strategic port cities of Tartus and Lattakia.

"In general, the Syrian fleet is significant and poses a threat, and if this system (the Yakhont) also gets into the wrong hands, then bad things could happen," Harel says.

Harel knows very well that the threat from the Syrian Navy has diminished, but the possibility of a surprise threat from different terror groups has increased.

During his tenure, Harel broke long-standing conventions in the Navy, and introduced extreme scenarios to training, like the commander of a ship being killed during an operation, a missile boat being sunk, fighters stranded on a raft for 12 hours at sea, and also a situation in which a large naval force returns from an operation without two or three of its vessels.

In one of his last missions, Harel also had to deal with stopping the flotilla to Gaza, which ended with minimal opposition.

"This is the 12th flotilla since 2008," he says. "This is a mission that is not fun to deal with because these are civilians. From what we see in the south, Gaza's fishermen are well-fed, and I don't understand what they're lacking. This is strictly a provocation."

Before moving on to serve as the head of the Planning Division in the Planning Directorate, Harel points at what caused the increased demand among new recruits to serve on a missile boat. "Being a fighter on a missile boat is much harder than being a soldier in Golani. A 5.56 mm bullet is not scarier than a Yakhont missile flying in your direction. A momentary lack of attention by one fighter could cost 100 of his shipmates their lives."