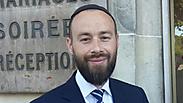 Rav Partouche
Photo: Roi Yanovsky
The terrorist attack about a week and half ago, along with anti-Semitic incidents, has led many young Jews from France to express an unprecedented amount of interest in making aliyah. The main arguments are familiar, but there is an additional factor: many young people are skeptical about what the economic future holds for them in Europe in general, particularly in France, and they believe that Israel offers even better opportunities.

Last week in France, the "last call" conference was held by Masa Israel Journey, an organization which allows Jews from all over the world to spend several months up to a year in Israel and integrates them into Israeli society.

Jewish Heritage

New institution, which is expected to open in French capital's 17th district in 2017, will serve both as an academic center and cultural institution and will include a synagogue, conference halls, exposition space and offices.

Data indicates that a majority of participants end up making aliyah. Despite the fact that the conference is limited in scope, usually because it offers "last minute" opportunities, an unprecedented number of young people took part - 400 men and women which one must add to the thousands who visited the conference about six months ago, a month after the kosher market attack in the Paris.

Security concerns have become one of the hallmarks of the French Jewish community in the wake of such attacks and the conference's security was handled by a large number of Jewish Agency guards, some Israeli and some French, who meticulously combed the area for several hours before the event's opening. Every participant who entered the compound underwent questioning and a thorough investigation.
77% rise in number of Jewish Agency files opened
The increasing level of interest in aliyah among French Jews is clearly reflected in statistics given to Ynet. In the first quarter of 2015 there was a 77% increase in the number of files opened up with the Jewish Agency (5,201 people compared to 2,936 last year). A jump of 110% was registered in the number of attendees at evening information conferences.
Daniel Ben-Haim, a Jewish Agency emissary in Paris, proudly said that in the next few months the summer record of the number of people making aliyah will be broken, with 2,500 Jews making aliyah from France, the first 130 of whom arrived last week. "90% of participants in Masa between 18 and 21 made aliyah at the end of their program, and 50% of those between 21 and 30 did so as well," Ben-Haim stated.
French Jews planning to make aliyah in the near future say that France is changing in a way that is not to the liking of Jews and young people. Ilan Blais, 18, who has been living in Paris since his birth, graduated from high school this year and decided to make aliyah and will begin learning at Machon Lev in Jerusalem. His parents are staying in Paris.
He explains the surge in the amount of young people making aliyah by the rise of anti-Semitism and radical Islam. "The terrorist attacks accelerated the process. My father told me that in the past he could walk around Paris with a kippah without feeling threatened." According to Blais "we get cursed at on our way to school. I go to school by car, as those who go by foot get called names like "dirty Jew."
"Some people are afraid to leave home and are afraid to be alone, and some have decided that's enough – and they go ahead and make the move. Everyone knows the expression 'the American Dream.' For many French Jews there is an 'Israeli dream,' to be a part of the Jewish nation, to serve in the army, to feel like one belongs."
'Israel is a start-up nation'
Ben-Haim added that many of his age group will soon make aliyah, and he feels the growing trend in the street and among the Jewish community. "Even when I coordinated with the Jewish Agency to obtain a plane ticket on a flight of olim, it was not so easy. They said that the summer was very busy and that all the flights were full."

Daniel Dvi, 19, who lives in Paris with his family, is interested in making aliyah and learning programming. He said the recent terrorist attacks accelerated the process of French Jews making aliyah, but this is not the only reason, as many French Jews see Israel as a better place to be from a professional perspective. "There is much talk about Hypercacher (the kosher market), Toulouse and everything that's going on in the country, but I see beyond that - Israel is a start-up nation, and if you want to work in high-tech, it is a good place."

Masa Israel Journey offers young Jews the opportunity to spend a period from several months up to a year in Israel in various frameworks, such as academic and religious studies, as well as professional training and internships in leading companies. This period prepares them for potential aliyah by offering professional training in fields like application development, graphics courses and equivalence classes required for those with European diplomas. More than 900 Israeli companies opened their doors to French olim who want to do internships, knowing that many will remain in Israel and will contribute to the business later on.
'Some have become accustomed to anti-Semitism'
Rabbi David Partouche, head of the French department of Machon Meir Yeshivah, runs a program through which secular and religious young people come to a biblical seminar in Jerusalem. "Twenty students have already signed up for next year, whereas last year at this time, less than ten had signed up," he said. "When I ask French Jews where they see themselves in ten years – they generally answer, 'Israel.'"

He attributes the current trend to the security situation in France. "It is true that Israel also has attacks, but in France you are all alone with your fears. When I come to Paris to lecture, I take a taxi. I do not take the subway the way I'm dressed. That's the reality and that's the atmosphere. Jews who do not have the means to live in the center of Paris, live in areas with concentrations of radical Muslims. The non-Jewish French also feel the trend. They tell the Jews, 'you have a country to run to, we have no where to run to.'"

To this he adds the economic situation in France, which he says is not attractive to young people. "Many people think they have a better economic future in Israel. They are influenced by the image of Israel as a high-tech nation."

Anael Shmueli, know by many from HaMerotz LaMillion (Amazing Race), came to the conference as a representative of national service programs. Her family is among those who do not want to leave France. "They say that in Israel there are also attacks, and they are not shaken by the sight of soldiers protecting synagogues," says Shmueli. "They even see it as something positive. They have become accustomed to discomfort. They have become accustomed to going out without a kippah. When a cousin of mine told me he received threatening looks while speaking Hebrew, I said to myself that just because of that I would make aliyah. When we were in Marseille we spoke Hebrew, and one of our friends said 'quiet down', and again, just for that I would make aliyah."
I want my son to be a 'sabra'
Arye Abitbol, in charge of programs coordinating internships and professional training programs in Israel for French Jews, attests to a "steady increase," he said. "I started four or five years ago with 80 people, before the attack in Toulouse, and today I have 800 people and this increases every year."
Nahum Botzkob is the director of the program "a Torah-only year" in the framework of which French Jews come to a hesder yeshiva and after which some join the IDF. "One of the students said he had a synagogue just a five minute walk from his house but he goes to another synagogue a half hour away, because he did not want to go by dangerous streets," he said. "Another student was beaten up at a French university under anti-Semitic circumstances. France's unemployment rate stands at 12 to 15%. Not all Jews are rich here, and Israel has the image of a progressive state with the right attitude towards entrepreneurship and start-ups."
Yossi Amar, 19, grew up in Marseille and made aliyah two years ago. According to him, in Marseille "you can not wear a kippah while walking outside. One feels the anti-Semitism, and when you see the amount of soldiers that protect the synagogues, these are signs that show you that you're not in the right place. More and more Jews are making aliyah from Marseille. I have no friends left in France. Everyone is in Israel, and even my parents arrived two months ago."
According to him, the motivation to make aliyah also springs from thinking about the next generation, his future kids. "If we continue to give our children a French education, their chances of being absorbed in the country will decline. I want my son to be a 'sabra' (native-born Israeli), and not an 'oleh'. My dream is to have written in my kid's identity card - 'born in Jerusalem.'"