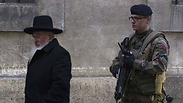 French soldier watches over Jewish school)
Photo: AFP
A religious young man was attacked for wearing a kippah in Paris.
The motive behind the attack was anti-Semitic: The perpetrators of the attack called out, "hit the dirty Jew." One of the attackers stole the victim's cell phone before fleeing the scene. According to reports in Jewish Paris, the local police have arrested one suspect in connection with the attack.
Dilemma
While armed soldiers are sent to secure synagogues in the French capital, members of the country's Jewish community say it is not enough; 'There are areas in Paris where you can't show that you're a Jew. If you enter the Metro with a kippah, you'll have a problem.'
The 13-year-old boy was attacked by six men, reportedly of African decent, while he was outside of school in Paris's 19th district – and was taken to a hospital while suffering from head wounds.
According to a report by the JTA news agency, the attack happened five days ago, outside the Gare du Nord train station, the largest in Europe.
The boy's parents were advised to file a report with police by a French anti-Semitism monitoring group, which also implored police to increase efforts to capture the attackers.
Anti-Semitic attacks double in France
The president of the Jewish group Guard Dogs published a statement condemning the attack, saying the boy was "identified as Jewish, due to his kippah."

According to the JTA, 2014 saw 105 violent attacks and 423 anti-Semitic incidents. So far in 2015, the French Jewish community has suffered 241 violent attacks against Jews, within the overall 851 anti-Semitic incidents, more than double last year's figures. Other European countries reported similar increases including the Netherlands, UK, and Belgium.

The incident occurred on the heels of a terror attack on the Hyper Cacher market that left 4 Jews dead.